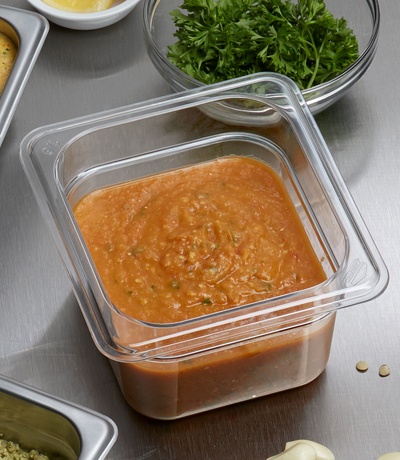 We return to our EXPEDITOR™ mezze platter recipes this week with zaalouk, a dish popular in Moroccan cuisine. Our version includes roasted eggplant and stewed tomatoes that are prepared "concassée", which means that they are cooked down with garlic and spices to produce a rich flavor profile.
More recipes to come, but don't wait...get your copy of the recipe book today!
Zaalouk for Mezze Platter


Ingredients:
500 g eggplant
350 ml water
30 ml lemon juice
800 g tomato
concass
é
e (recipe below)
30-60 ml extra virgin olive oil
For roasting the eggplant
Preheat oven to 425°F

/ 218°C

Pierce the eggplant with a knife in several spaces to prevent it from exploding in the oven

Place eggplant on a baking sheet and cover with foil

Roast until the eggplant is tender but not mushy

Remove eggplant and set aside to cool

Combine water and lemon juice and set aside

Once eggplant is cooled, peel and place the inner pulp into the water and lemon juice mixture to prevent discoloration. Set aside.
To stew the tomatoes
In a sauté pan, heat the olive oil on medium heat

Once oil is hot, add minced garlic, spices and sweat until garlic becomes translucent

Add the tomatoes and continue to cook on medium heat until the mixture becomes drier and starts to thicken

Reduce the heat and cook until the tomatoes are tender

Once the tomatoes are tender, remove from heat and set aside to cool.
To make the Zaalouk
Combine the eggplant pulp and tomato mixture in the jar of the EXPEDITOR™500 series culinary blender and pulse to make coarse.

Add half of olive oil and herbs (parsley and cilantro) and pulse to incorporate.

Taste and adjust as needed with salt.

Transfer the mixture to a bowl and dress with extra virgin olive oil to serve. Yields 1kg or 4 portions with bread.
Note:
This recipe was written for a specific member of the EXPEDITOR™ Family of Culinary Blenders. If you are using a
different Hamilton Beach® Commercial Culinary Blender
, you may need to make adjustments to the Variable speed, processing time, and/or ingredient quantities.
Find out more about the EXPEDITOR™ Family of Culinary Blenders and get some additional culinary inspiration at culinaryblenders.com. If you have an interesting story about your offerings, some recipes you would like to share with the rest of the HBC community, or an intriguing customer service experience to share, we would love to hear from you. The best stories will reference your name and your establishment, and could garner you some national or even international publicity. Please share your stories here.