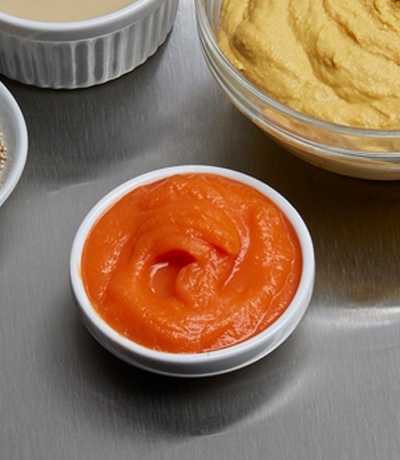 Simple and straightforward, this recipe demonstrates the power of the EXPEDITOR™ 600 Series Culinary Blender.
It's also a key ingredient for Carrot Hummus, an interesting variation on the Middle Eastern classic that is featured in the mezze platter highlighted in our recipe book.
That recipe is coming in a few days...in the meantime, study up on this one.
Carrot Purée for Mezze Platter


Ingredients:
500 g roasted carrots
100-140 g water
150 g dulce de leche
3 g salt
Place roasted carrots and water in

jar of

the

EXPEDITOR™ 600 Series Culinary Blender and run until purée begins

Add dulce de leche and blend on high until desired consistency is achieved.

Season with salt. Yield 650g.
Note:
This recipe was written for a specific member of the EXPEDITOR™ Family of Culinary Blenders. If you are using a
different Hamilton Beach® Commercial Culinary Blender
, you may need to make adjustments to the Variable speed, processing time, and/or ingredient quantities.
Find out more about the EXPEDITOR™ Family of Culinary Blenders and get some additional culinary inspiration at culinaryblenders.com. If you have an interesting story about your offerings, some recipes you would like to share with the rest of the HBC community, or an intriguing customer service experience to share, we would love to hear from you. The best stories will reference your name and your establishment, and could garner you some national or even international publicity. Please share your stories

here.