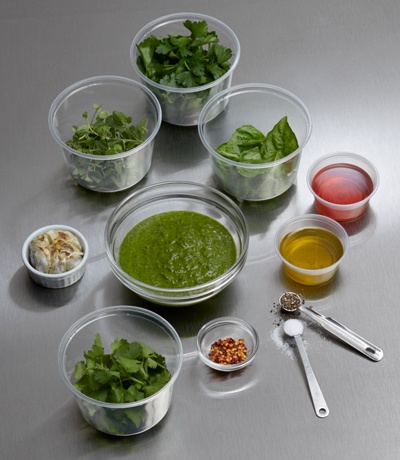 Chimichurri is a versatile, fragrant sauce featuring fresh herbs and vinegar. Primarily used for marinating meat for grilling, there are green versions and red versions. We present our green variation below.
This sauce is excellent on cuts of beef like flank steak, and we developed this version in particular for use on grilled lamb chops.
Visit culinaryblenders.com today to see the video for this recipe and to download a copy of the recipe eBook.
Chimichurri Sauce
Ingredients:
240 ml firmly packed fresh flat-leaf parsley, trimmed of thick stems
240 ml firmly packed cilantro, trimmed of thick stems
120 ml firmly packed basil, trimmed of thick stems
30 ml fresh oregano leaves
30 ml red or white vinegar
6-7 each garlic cloves, roasted
6-7 each garlic cloves, chopped and fried
To taste freshly ground black pepper
To taste red pepper flakes
Blanch the parsley, cilantro, basil and fresh oregano.

Add to

the

EXPEDITOR™ 600 Series Culinary Blender, and, using the CHOP feature, process herbs with roasted garlic.

Add the olive oil, vinegar, salt, pepper, fried garlic and red pepper flakes.

Blend until desired consistency is reached.

Adjust seasoning as needed. Yield 900ml.
Note: These recipes have been written for specific members of the EXPEDITOR™ Family of Culinary Blenders. If you are using a different Hamilton Beach® Commercial Culinary Blender, you may need to make adjustments to the Variable speed, processing time, and/or ingredient quantities.
Find out more about the EXPEDITOR™ Family of Culinary Blenders and get some additional culinary inspiration at culinaryblenders.com. If you have an interesting story about your offerings, some recipes you would like to share with the rest of the HBC community, or an intriguing customer service experience to share, we would love to hear from you. The best stories will reference your name and your establishment, and could garner you some national or even international publicity. Please share your stories here.