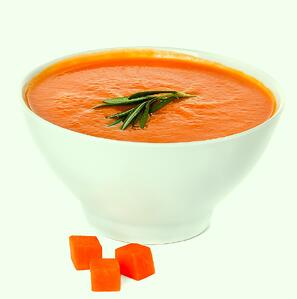 You could call this "Quick Cream-of-Anything Soup." It's a versatile recipe that should be in every chef's workbook. Make it with carrots, or substitute cauliflower or broccoli. It will keep up to one month when frozen.

Creamy Carrot Soup
(Recipe by the California Culinary Academy)


Ingredients:

1 pound carrots peeled and chopped
1 medium potato peeled and chopped
½ cup unsalted butter
1 tsp. salt
¼ tsp. fresh ground pepper
3 cups chicken stock
¼ cup sour cream for garnish
Sprigs of fresh oregano for garnish

Instructions:

1. In a medium saucepan over medium-low heat, place carrots and potatoes and add water to cover; simmer until vegetables are easily pierced with a sharp knife (about 25 minutes).
2. Puree carrots and potato in a Hamilton Beach Commercial culinary blender with butter, salt, and pepper.
3. Return to saucepan and stir in stock. Place over medium heat and cook until warm. Serve immediately. Garnish each serving with a tablespoon of sour cream and a sprig of fresh oregano.


We're always looking for new recipes, ideas, and stories from our friends and partners in the restaurant industry. If you have a recipe or story idea that you would like us to feature, please submit here.