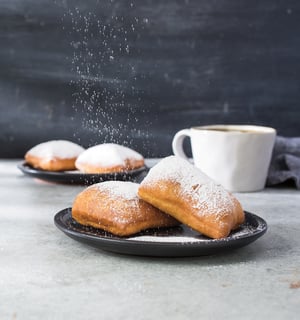 Bring a little New Orleans flair to your menu with these airy, delicious
beignets. Dusted in confectioners' sugar, this decadent breakfast treat
will pair well with a hot cup of coffee.
Use your CPM800 stand mixer for best results.
Beignets

Ingredients:
½ c (120 ml) warm water (105-110ºF / 40-43ºC)
¼ c (50 g) granulated sugar + 1 tsp (4 g), divided
1 (0.25-oz/7 g) active dry yeast
½ c
(120 ml) boiling water
½ c (120 ml) evaporated milk
2 Tbsp (28 g) unsalted butter, melted
½ tsp (3 g) salt
1 large (50 g) egg
4 c (508 g) bread flour + additional for rolling
4 c (896 ml) vegetable oil + additional for oiling bowl
Confectioners' sugar, for dusting
1. In a small bowl, whisk together ½ (120 ml) warm water, 1 teaspoon granulated sugar, and yeast. Let stand until foamy, about 5 minutes. Set aside.
2
. In the mixing bowl of the CPM800 stand mixer fitted with the flat beater attachment, beat ½ c (120 ml) boiling water, evaporated milk, butter, salt and remaining ¼ c granulated sugar on medium-low speed until blended. Beat in egg and the yeast mixture until combined. Reduce the speed to low; gradually add the flour and beat until blended.
3. Remove flat beater attachment and insert the dough hook. Slowing increase the speed to medium-high and knead until the dough is smooth, about 2 minutes. (The dough will be sticky)
4. Place the dough in a lightly oiled bowl and cover with plastic wrap. Refrigerate overnight.
5. Turn the dough out onto a floured surface. Flour the dough and roll to ¼-inch (6-mm) thickness. Cover with a damp kitchen towel and let the dough rest for 30 minutes.
6. Place a wire rack over a backing sheet and set aside. In a 3-quart saucepan over medium-low heat, add oil and heat to 350ºF (180ºC). Adjust the heat as necessary to maintain the temperature.
7. Using a floured knife or pizza cutter, cut the dough into 3-inch (8-cm) squares.
8. Carefully drop the dough squares, 3 at a time, into the hot oil. Turn the beignets every 30-40 seconds until golden brown. Using a slotted spoon, carefully move the beignets to a cooling rack and dust with confectioners' sugar. Serve while hot. Recipe yields 12 beignets.
Discover all Hamilton Beach Commercial's equipment solutions for bakeries.