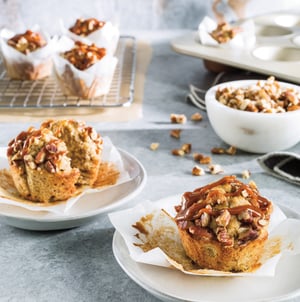 These hearty muffins packed with oats, pecans, and bananas are a great addition to any bakery menu. The Caramel Drizzle makes these already delicious muffins irresistible.
Use your CPM800 stand mixer for best results.
Banana Caramel Nut Muffins

Ingredients:
Muffins
1½ c (188 g) all-purpose flour
½ c (45 g) old-fashioned oats
1 tsp (5 g) baking powder
1 tsp (5 g) ground cinnamon
2 10-oz. (280 g) ripe bananas *weight includes peels*

⅔ c (147 g) packed brown sugar
½ c (113 g) unsalted butter, melted
1 tsp (4 ml) vanilla extract
1 c (113 g) chopped pecans
Caramel Drizzle
½ c (100 g) granulated sugar
3 Tbsp (45 ml) water
2 Tbsp (30 ml) heavy cream
2 Tbsp (28 g) unsalted butter
¼ tsp (1.5 g) sea salt
1. Preheat the oven to 375ºF (190ºC) with a rack set in the middle position. Line a 12-cup muffin pan with desired liners or spray the cups with nonstick cooking spray. Set aside.
2
. Make the muffins: In a small bowl, stir together flour, oats, baking powder, cinnamon, and salt. Set aside.
3. In the mixing bowl of the CPM800 stand mixer fitted with the flat beater attachment, beat bananas at medium-high speed until mashed with some small pieces remaining, about 1 minute. Reduce the speed of the mixer to medium-low and beat in brown sugar, butter, eggs, and vanilla extract until well blended, about 1 minute. Add the flour mixture and pulse until the flour is just combined.
4. Divide the batter evenly between the prepared muffin cups. Sprinkle about 1 Tbsp (7 g) chopped pecans over the batter in each muffin cup. Bake until a cake tester comes out clean, 20-22 minutes.
5. Make the caramel drizzle: In a small saucepan over medium-high heat, add granulated sugar and 3 tablespoons (45 ml) water, and swirl together. Without stirring, cook until the sauce is a caramel color and has thickened, 4-6 minutes. Watch carefully, as the sugar darkens quickly once it starts to caramelize. Remove from the heat, add cream, and whisk until blended. Add butter and sea salt, and whisk until blended. Using a spoon, immediately drizzle the caramel sauce over the cooled muffins. Let the muffins stand until the caramel has set. Recipe yields 12 muffins.
Discover all Hamilton Beach Commercial's equipment solutions for bakeries.