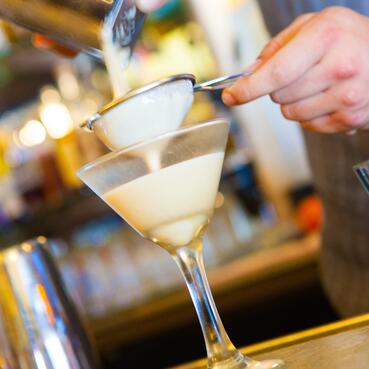 Flüssiger means "liquid" in German, and the Flüssiger Strudel, or "Liquid Strudel" as its more often called by regular customers, is the signature drink at the Wunderbar in Grünauer, Kansas City's premier Austrian restaurant. Scott Beskow mixes the Flüssiger Strudel from freshly squeezed lemon juice, rum, egg whites and leftover strudel syrup. If you don't have fresh-baked strudel on hand, Beskow suggests substituting a simple syrup made from sugar, apple cider and cinnamon sticks. The sweet-tart combination is delicious as an apéritif or dessert drink.

Ingredients




1 oz fresh-squeezed lemon juice




1.5 oz Gosling's

dark rum


1.5 oz strudel juice*




2 drops Fee Brothers Old Fashioned Bitters


.75 oz egg whites



Directions




Shake all ingredients thoroughly and double strain into cocktail glass. Swirl cinnamon on foam.





*A home version can be made by making a 1:1 simple syrup from sugar, apple cider and cinnamon sticks.

Read more about Wunderbar's fresh-juiced cocktails

We're always looking for new recipes, ideas, and stories to share with our friends and partners in the business. If you have a recipe or story idea that you would like us to feature, please submit it here. The best stories will reference your name and establishment and garner national and potentially international exposure.