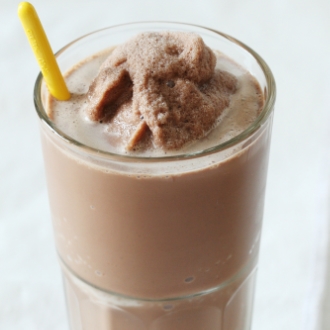 The Divine Mocha Serenity is a chocolate smoothie reminiscent of the classic ice cream truck fudgsicle. The recipe comes from Justin Maddra, winner of the Hamilton Beach Commercial Smoothie Contest. It's simple to whip up and perfect for customers with a sweet tooth.

Divine Mocha Serenity

Ingredients:

1 cup cool water
3

½

oz. dark chocolate syrup
3 oz. vanilla ice cream
11

½

oz. ice cubes


½

scoop mocha powder

Instructions:

When blending frozen drinks, always use a high-performance commercial blender. Put liquid ingredients in the jar first. Follow by adding solid ingredients such as fruit and ice.

If you have a fun or interesting drink recipe, please submit it here. The best stories and recipes will be published on our blog and distributed to the HBC Community, nationally and potentially internationally. Further, we will reference your name and establishment for bringing it to our attention. A little publicity can always help to grow your business and awareness.