"Alexa*, close the blinds."
"Alexa, what time does the gym open?"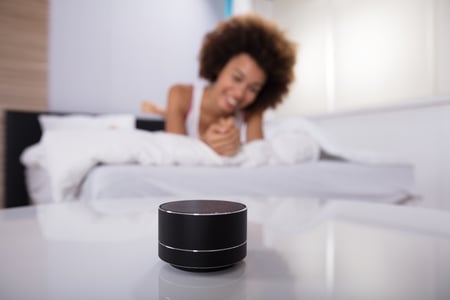 "Alexa, can I get some more towels?"
Soon, dialing "0" for the front desk will be an artifact of the past. The latest trend in hotel tech is artificial intelligence for guest rooms: conversational AI systems that can handle guests' common questions and requests. This innovation is about to go mainstream, as Amazon's Alexa for Hospitality is being tested at select Marriott, Westin, St. Regis, Aloft, and Autograph Collection hotels (including the Charlotte Marriott City Center, the hotel innovation incubator we've featured.) How does this system work, and what are the benefits of adopting it?
What is Alexa for Hospitality?
Alexa for Hospitality uses the familiar, cylindrical Amazon Echo device found in homes. It can be integrated with existing hospitality software solutions (such as DigiValet, Intelity, Nuvola, and Volara) to enable appointment booking, room service ordering and other services. Hotels can decide which "skills" to add to their Alexas, or even develop their own. A central console allows hotel operators to manage device settings and remotely reset devices when a guest checks out.
Alexa isn't the only conversational AI being developed for hotels. In Beijing, InterContinental Hotels Group is testing "smart rooms" with technology designed by Baidu Inc. And IBM recently introduced its Watson Assistant for Hospitality, a digital concierge that's designed to not only answer guests' requests but also "anticipate guest needs by offering helpful suggestions at the right time." The Watson Assistant connects with the hotel's Internet of Things (IoT) to automatically tailor a room to guests' music, temperature, and lighting preferences, as well as syncing with a guest's calendar, email and phone accounts.
The Pros of AI in Guestrooms
Guests' Expectations: "Our guests regularly tell us they want the same conveniences they have at home to be present when they travel – and deploying Alexa for Hospitality in some of our properties is one way we are responding to that point," Tracey Schroeder, vice president of global consumer public relations for Marriott, told USA Today. Having access to guestroom AI isn't just a perk; it's something guests may actively miss if it's not there.
Accessibility: Compared to in-room tablets, touchscreens and hotel apps, conversational AI systems have an extremely low barrier to access. Even guests who aren't tech-savvy can use Alexa.
Multilingual capabilities: The Watson Assistant for Hospitality is multilingual. New languages and a translation app are being developed for Alexa. It should be noted, however, that Alexa struggles to comprehend some accents. A recent study showed that Alexa's efforts to understand speech from non-native English speakers resulted in about 30 percent more inaccuracies.
The Cons of AI in Guestrooms
Privacy concerns: Because Alexa is already so common, many guests already have strong opinions about whether the technology is trustworthy and whether they're comfortable having it in their bedroom. To turn off the service, guests just have to push the microphone on/off button on top of the device, which electrically disconnects the microphone and prevents audio from being sent to the cloud.
"Properties can't listen to what you said to Alexa or what she said back," Amazon assures users, but will they believe this is true? On home devices, users can access and manage a history of all their Alexa voice requests; they may be afraid that hotel operators will do the same. Alexa will give operators data about guest habits that's anonymized and aggregated.
Another area of concern is the use of beacon technology in hotel artificial intelligence systems. A beacon placed in hotel rooms can detect the presence of guests' smartphones, recording data points such as the time a guest leaves for breakfast or the hours spent in the room, allowing AI systems to tailor offerings to individuals' habits.
Security: Alexa has been hacked before. In 2018, researchers at the security firm Checkmarx found a way to turn Alexa into a spying device. The process was simple: They built a malicious Alexa skill and disguised it as a calculator. When activated, the skill listened to users' conversations, transcribed them and sent the transcription back to the developers. Amazon has taken steps to defend Alexa against similar hacks, but that doesn't mean its security is infallible.
Service: For people who increasingly prefer to opt out of routine social interactions, guestroom AI and other hotel tech can be a nice perk. But can AI systems truly deliver hospitality? The world's finest hotels, like La Réserve in Paris, earn their reputation by employing gold-star staff who have mastered the art of making a guest feel at home. Alexa's smart, but that's not one of her skills.
Are you deploying guest room AI or other new technology in your hotel properties? Tell us about it! We're always looking for innovators to feature in this space.
*Alexa is a registered trademark of Amazon.com, Inc. Use of the Alexa trademark does not imply any affiliation with or endorsement by Amazon.com, Inc.