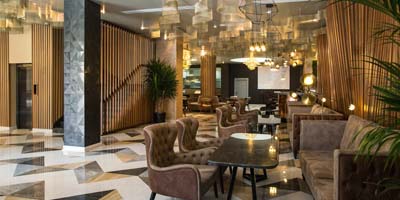 Of all the aspects of hospitality lost to COVID, the hotel bar was missed more keenly than most (second only, maybe, to the breakfast buffet). The bar is a uniquely convivial experience: a place to sit shoulder to shoulder with fellow guests and savor the experience of being somewhere unfamiliar but welcoming.
People want that opportunity to socialize again. That's why it's time to reinvest in the hotel bar and end any limitations on food and beverage services, hospitality experts say.
"International travelers want a great bar experience in particular," Sloan Dean, CEO and president of third-party management company Remington Hotels, said at the NYU International Hospitality Industry Investment Conference. "Often they stay and dine in the hotel, whereas domestic travelers often don't. So we need our food-and-beverage really dialed in."
Here's a look at some hotel bar trends and opportunities to maximize revenue and guest satisfaction.