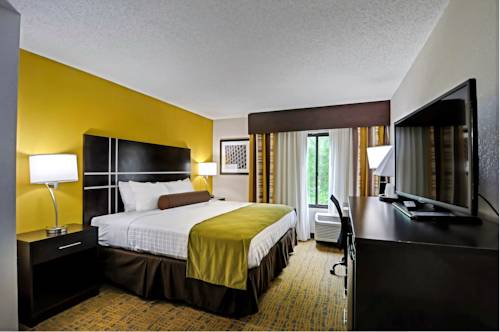 In the late 1960s, the height of hotel interior design (in Wisconsin, at least) was a collision of rough stone walls, purple wall-to-wall carpet, smoked-plastic chairs and circular waterbeds. The home of this mind-boggling décor was named the Gobbler, and it was "the ugliest, and somehow coolest, motel in America," according to author James Lileks, who compiled a detailed tribute to the Gobbler on his website.
Your hotel probably isn't that outdated. But is it time for a refresh?
We spoke with Nicole Gould, Director of Interior Design for Vertically Integrated Projects, to get her advice on how to give a hotel property a fresh look while minimizing disruption to hotel operations. Vertically Integrated Projects is a North Carolina-based company that specializes in furniture, fixtures and equipment (FF&E) design for hotels throughout the southeast and mid-Atlantic.
Best Western Plus in Winston-Salem, NC (Photo courtesy of Nicole Gould)