When guests enter the Charlotte Marriott City Center, "they're just jaw-dropped," says General Manager Crissy Wright. It's not only that it's pretty, or that it's modern — this hotel is the future of Marriott. Called M Beta, it's the world's first hotel innovation incubator, a working laboratory for testing new hospitality industry trends.
Since M Beta opened in October 2016, what has this ambitious experiment revealed? Hamilton Beach Commercial spoke with Wright to find out.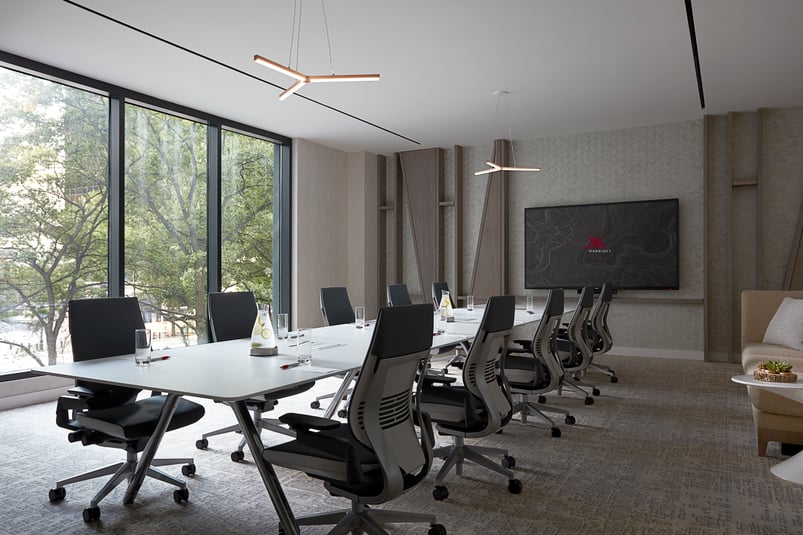 A meeting room at Charlotte Marriott City Center - all images courtesy of Marriott and published with permission.
The M Beta guest experience
The first thing guests notice when they walk into the M Beta hotel is the absence of a front desk. Instead, the arrival team stands by island tables — like the Apple Store, Wright says — ready to assist them if needed. The hotel has embraced mobile check-in, one of the hottest hospitality trends. Guests can check in with their phones and also use them as their room keys, so if they wish, they can wheel their luggage straight to the elevator and head for their room.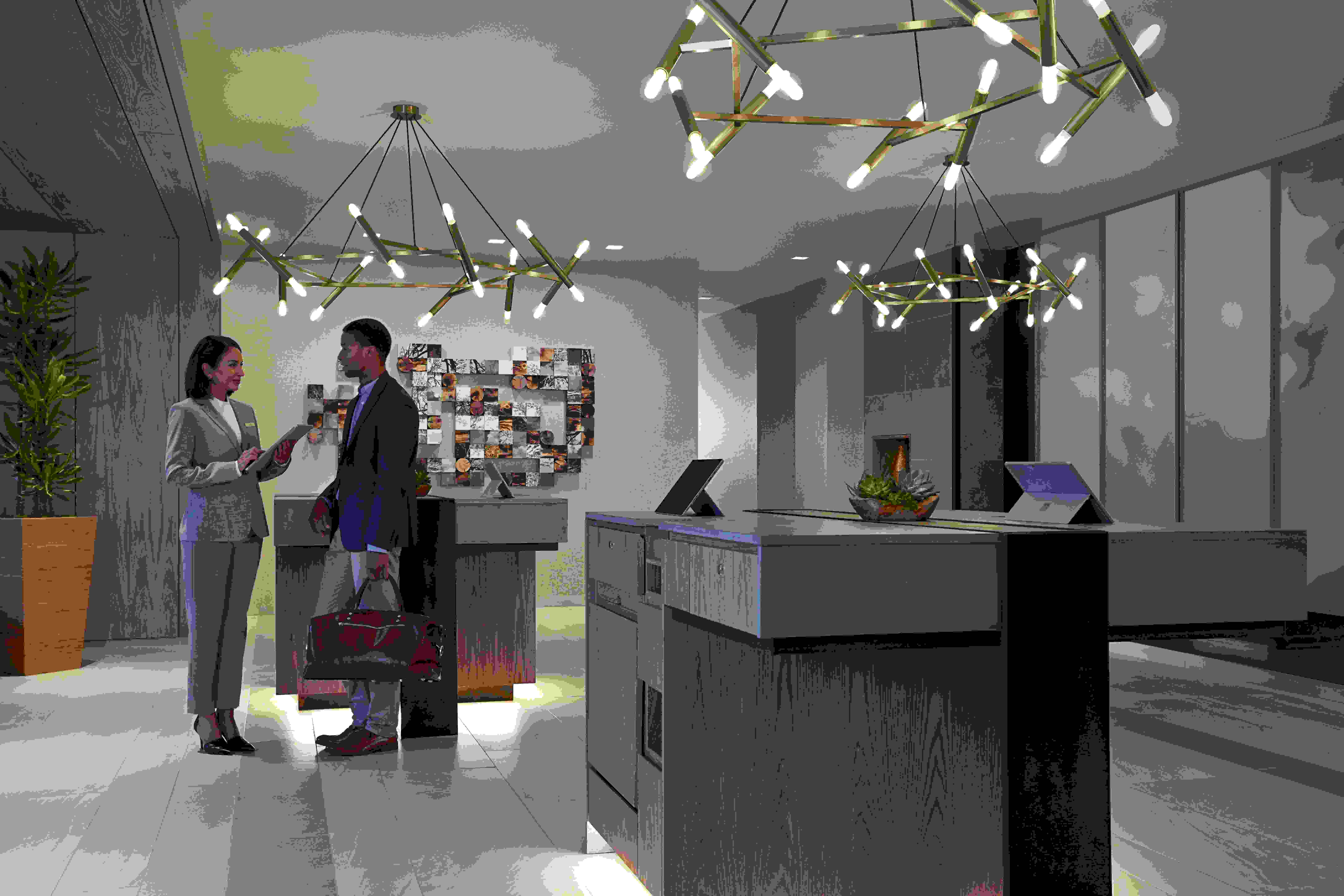 But that doesn't mean the lobby experience is impersonal — quite the opposite. "What I love about that is that it gives our hosts the ability to engage further with them later," Wright says. "I feel like it's less transactional." Regular guests often stop by the lobby just to chat with staff.
The guestrooms were completely transformed as part of the beta renovation. In place of carpet: hard surface flooring. In place of the bathtub: a spa-like rain shower. In place of framed art: architectural details, like wooden wall panels and niches. Netflix and Hulu is available on the televisions, as well as the ability to stream music or shows from a guest's mobile device.
Fitness is "really, really important to our guests," Wright says, so the hotel gives them three options. There's a cardio room with advanced equipment; a studio where guests can choose from more than 600 virtual classes; and discounts for sessions at three local fitness studios.
Food and beverage at M Beta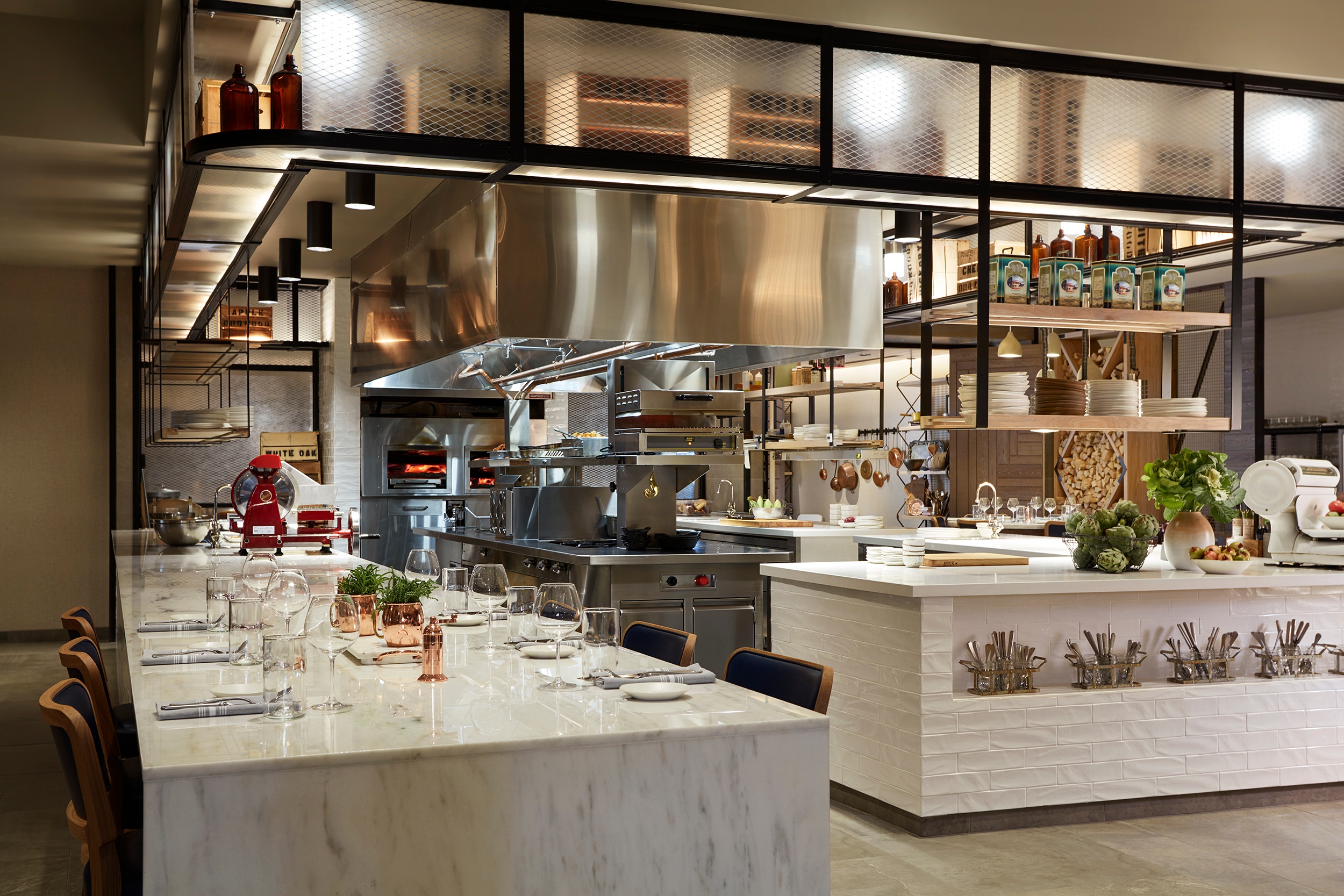 At M Beta, food is central to the guest experience. Literally: "when you walk into the arrival area, you see our restaurant," Wright says. "Our vision was, build a kitchen and put tables around it." The result is an immersive kitchen in which diners get a clear view of the wood-fired oven and the hard-working culinary team, led by Charlotte native Chef Chris Coleman. The restaurant, Stoke, serves farm-to-table Southern-style dishes with a creative twist, like deviled eggs with fried chicken skin and sherry-glazed duck with smoked grapes. Celebrity chef Gordon Ramsay recently came in for lunch, and he loved the restaurant. "Which was a good thing," Wright says with a laugh. "He was really genuine and so nice to our culinary team."
The bar at Stoke is "all about taps," Wright says: 24 beer taps, most of them local, plus eight more for wine and cocktails. The hotel coffee bar, Coco and the Director, is just as forward-thinking. "It is the coolest space in the hotel," Wright says, with three co-lab work spaces, comfy stadium seating, a lending library and coffee from local roaster Forte Legato. It's branded as not just a nice hotel coffee lounge, but as one of the top coffee shops in Charlotte.
What you can learn from Marriott's beta hotel
Ask guests for feedback, in multiple ways. When M Beta first opened, Marriott placed feedback buttons throughout the hotel that registered guests' impressions — think of them as physical "like" buttons. Enjoy the coffee bar or the gym? Hit the button, and your feedback would be registered not only internally, but on public-facing boards. The experiment was interesting, but limited; so Marriott has since taken away the buttons and focused on getting guests' opinions in surveys and by simply asking them.
Invite in the locals. The M Beta hotel's careful attention to food and beverage isn't only for the benefit of guests. On an average Friday or Saturday night, the majority of OpenTable reservations are from Charlotte residents. That's intentional. Here are some other ways hotels are welcoming locals, and maximizing revenue in the process.
Keep your desks! We've talked about the Great Desk Debate in this space before: As hotels update their furniture and fixtures, many are opting to ditch the desk to free up space in the guestroom. Millennials prefer to work in the lobby, or on the bed — or so the reasoning goes. Now Marriott's experiment has answered the question: Yes, guests do want desks.
The rooms were originally designed with flexible, multi-purpose furniture, but Wright soon got the feedback that customers really wanted a dedicated work surface. So, she says, "we went back." Half the rooms now have desks.
Don't be afraid to fail. The toughest thing Wright has had to do, she says, is teach her staff that perfection is not the goal — not at first, anyway. "Not everything will work. But we understand that. … You just try something else." The secret, she tells them, is to fail fast and move on. Staff (called hosts) have risen to the challenge, and guest reviews consistently praise them by name.
For Wright, a 25-year Marriott veteran, the greatest pleasure is hearing new guests say, "You know what, you guys have got it right. If this is any example about what the future of the brand is, you guys are going to nail it."
Are you trying a bold experiment with your hotel property? Tell us about it! We're always looking for industry innovators to feature in this space.