In the late 1960s, the height of hotel interior design (in Wisconsin, at least) was a collision of rough stone walls, purple wall-to-wall carpet, smoked-plastic chairs and circular waterbeds. The home of this mind-boggling décor was named the Gobbler, and it was "the ugliest, and somehow coolest, motel in America," according to author James Lileks, who compiled a detailed tribute to the Gobbler on his website.
Your hotel probably isn't that outdated. But is it time for a refresh?
We spoke with Nicole Gould, Director of Interior Design for Vertically Integrated Projects, to get her advice on how to give a hotel property a fresh look while minimizing disruption to hotel operations. Vertically Integrated Projects is a North Carolina-based company that specializes in furniture, fixtures and equipment (FF&E) design for hotels throughout the southeast and mid-Atlantic.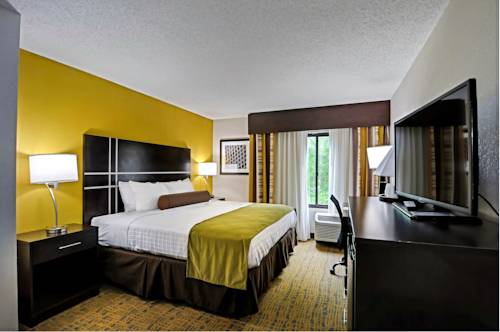 Best Western Plus in Winston-Salem, NC (Photo courtesy of Nicole Gould)
How do you know when it's time to renovate a hotel?
A hotel should renovate its lobby and guestrooms at least every seven years, Gould says. Most major brands require updates at that interval, or even more frequently. To know if it's time, examine the guestrooms closely for signs of wear and tear. Stained or water-damaged carpet is the most significant turnoff for guests, she says, because it's perceived to be dirty. Worn furniture is another. "People try to prolong renovations on their case goods," Gould observes, but peeling veneers, scratches and wobbly legs are all problems that shouldn't be ignored. The third sign: faded, stained or outdated fabrics.
What are the biggest trends in hotel interior design right now?
Hotel renovations aren't just about updating FF&E. More than ever, the goal is to adapt a hotel to guests' changing expectations and habits. Almost every guest now wants convenient places to charge devices and use laptops. At Hamilton Beach Commercial, we've seen increased demand for clock radios with USB ports. Gould says there's also a trend toward adding USB ports to furniture, like nightstands or headboard side panels.
While some hotel brands are opting to entirely remove desks from guestrooms (a move that angers some travelers), Gould is pro-desk. While some guests may prefer to work in their beds or down in the lobby, they still need a space to put their laptop and other possessions. Guests also want to see K-Cup/pod coffee makers in all rooms, Gould says, as well as air conditioners they can adjust with a remote control.
Flooring is changing in a big way, Gould says. Carpet tiles are replacing broadloom — not only because they're easy to swap out if they gets stained, but because carpet tiles give designers the ability to define different areas by using contrasting patterns or colors. Luxury vinyl tile, or LVT, is also increasingly popular in guestrooms and public spaces, Gould says. LVT resists stains, absorbs sound and can realistically mimic the look of ceramic tile or hardwood. Using LVT in all guestrooms has resulted in significant cost savings for extended-stay chain Value Place, President Kyle Rogg tells Hotel Executive. Not only is it easier to clean, but a damaged plank can be replaced in minutes for just $10.
While many new, millennial-focused hotel brands are trying to grab attention with bright, in-your-face color schemes, Gould advocates the use of solid fabrics and neutral palettes with pops of color. "I think that's something that probably really will stand the test of time," she says.
What's the best way to make a big impact with a limited renovations budget?
Redoing the lobby is a budget-friendly way to wow guests, Gould says. Modern hotel lobbies aren't just places to check in; they're multifunctional social hubs where guests can socialize, work alone, buy a sandwich or just people-watch. "Today's travelers want to be alone without being lonely," observes Peter Mathon of PR firm Mathon & Associates.
Owners of older hotels may think a lobby transformation isn't possible. It is! Gould relishes the challenge of taking a traditionally-styled lobby and updating it to modern standards. Even if a hotel has a small budget for updates, she cautions hoteliers against trying to renovate by themselves. Focus on running the hotel, she advises, and let a professional handle interior design.
The lobby also offers a chance to add personalized touches, such as photography by local artists or wall-vinyl artwork that captures the spirit of a hotel's surroundings. "Just because there are brand standards, your property doesn't have to be standard," Gould likes to say.
How can hotels avoid disturbing guests during a renovation?
Inform guests ahead of time about the work being done and emphasize how the updates will benefit them, Gould says. She likes to post concept boards in the lobby to show the guests what new rooms will look like and make them feel like they're involved in the process.
When preparing for a lobby renovation, give some thought to how you'll set up temporary space for your breakfast bar equipment, like coffee urns and toasters. Don't just shove everything in a conference room; "plan ahead how you're going to reposition them and how guests are going to flow through," Gould says.
There's a science to renovating guestrooms, Mathon says: Go floor by floor, beginning with the top floor. Choosing a contractor with extensive hotel experience will help; a good one can turn around a standard 23-room floor in two to three weeks. Another way to speed the process, Gould says, is to choose a hotel designer like VIP, which works jointly with the contractor. That way, no one's pointing fingers, and the process goes smoothly.
Have you recently renovated your property? Tell us about it and we may feature your brand in a future post. And seriously, if you haven't seen the glory of the Gobbler, you need to check it out. Especially the red and lavender rotating bar.