Great coffee and a satisfying breakfast are among the most cherished amenities hotels offer. What happens now, after COVID-19 has forced hotel operators to rethink the way they serve guests?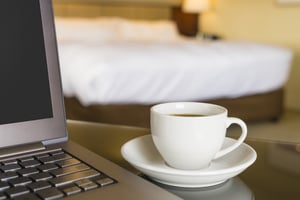 One thing hoteliers agree on: Coffee and breakfast must stay. They just have to be served differently now. We'll take a closer look at how hotels are adapting to this new reality.
Low-Touch In-Room Coffee Solutions
In this new era for hospitality, the guestroom is a sanitized sanctuary. Hotel chains are instituting new ways to reassure guests that every frequently touched surface has been cleaned and is safe to touch. But what about making coffee?
There's no way to make in-room coffee without touching something. But Hamilton Beach Commercial's pod coffeemakers for guestrooms are designed to minimize touch and maximize flavor. The secret is the recyclable brew basket that holds soft pods, both of which come individually wrapped. A guest would only need to touch the coffeemaker twice – once to add fresh water, and once to press the brew button.
Best of all, our pod coffeemakers brew outstanding in-room coffee. We designed the brew basket/pod holder to maximize coffee extraction, resulting in a stronger brew, even when using less coffee. (Here's the science.) It's also reusable and recyclable, pleasing green-minded guests.
Low-Touch Hotel Breakfast Strategies
If your guests are accustomed to enjoying a hearty morning meal, you can't take it away from them. "They still want their breakfast, and you've got to be able to provide the breakfast," Anthony Melchiorri, a hospitality consultant and host of "Hotel Impossible" on the Travel Channel, told The Washington Post.
But take heart: You don't have to figure it out all at once. Many hotel chains are offering grab-and-go options temporarily while they devise safer ways to serve full breakfasts. Possibilities include extending breakfast hours, staggering seatings and requiring reservations. Some brands are offering loyalty members extra points in lieu of breakfast, or credits to use at an on-site restaurant.
Hotels that have kept a buffet setup seem to be limiting the selection to packaged items and fruit: oranges, bananas, instant oatmeal, baked goods, etc., observes One Mile at a Time. Self-serve coffee and juice remain.
What of iconic offerings like the make-your-own waffles at Hampton Inn? The brand is "exploring ways to gradually bring back the made-to-order breakfast, although it may be with an attendant versus DIY, to make sure we can maintain consistent standards of cleanliness," said Phil Cordell, parent company Hilton's global head of new brand development.
This is the time to take stock of your foodservice equipment and determine how it can be used to safely and effectively serve breakfast. Key pieces include:
No-touch coffee urns: All of Hamilton Beach Commercial's coffee urns feature touchless dispensing. A guest or server only has to press a cup against the dispenser. These urns are easy to sanitize, inside and out, and both the stainless steel and aluminum finishes present a polished appearance.
Commercial rice cookers: Available in three sizes, our commercial rice cookers cook staples like oatmeal, grits and porridge to perfection. Food can be held at the correct temperature for up to four hours.
Chamber vacuum sealers and immersion circulators: Sous vide cooking isn't just for catering and fine dining. It's the perfect way to prepare French toast, scrambled eggs, poached eggs, cured salmon and even bacon (really!). This style of preparation is well suited to room service and long serving windows, because food can be held at a safe, serving-ready temperature for several hours. Learn more about the PrimaVacTM line of vacuum sealers and the AcuVideTM 1000 Immersion Circulator.
Take heart: Hoteliers worldwide are facing the same challenges right now. We're all in this together! Hamilton Beach Commercial will continue supporting you with tips and strategies for surviving and thriving.