A bad cup of hotel coffee will mess up your whole morning.
You turn on the in-room coffee maker, desperate for some caffeine to prepare you for the long day ahead. To your dismay, you find your cup filled with a liquid that is almost, but not quite, entirely unlike coffee (to paraphrase Douglas Adams).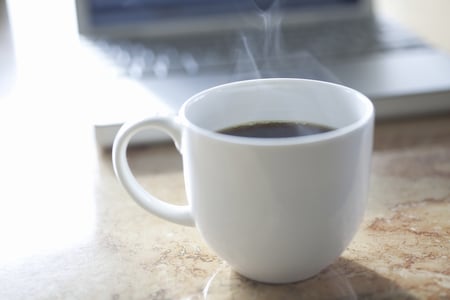 It's watery. It's weak. All you can do is grimace and drink it, or put on some pants and stumble down to the lobby to find something stronger.
Don't inflict this on your guests! Hamilton Beach Commercial®'s (HBC) hotel coffee makers are designed to maximize coffee extraction for a more satisfying cup — and more satisfied guests. Here's how we do it.
The Science of Coffee Extraction, Explained
Coffee is wonderfully complicated. A sensitive taster can detect dozens of subtle notes from various flavor families, ranging from enticing (pepper, cocoa, molasses, coconut) to unsavory (must, petroleum, cardboard). The presentation of these flavors depends not only on the type of coffee used, but the mechanics of the brewing operation: time, temperature and chemistry.
One of the most important elements in brewing is the amount of time the water is in contact with the coffee. The longer that water touches the grounds, the stronger the brew. A smaller coffee-to-water ratio means a shorter brew time and a weaker result (this is why K-cup-style coffee brews rapidly but is not very potent.) Getting the ratio right is hard, as professor Christopher H. Hendon explains in Smithsonian: "Optimization of filter coffee brewing is hence multidimensional and more tricky than full immersion methods."
The easiest way to make coffee stronger: Add more grounds! But that can be an expensive proposition for hotel operators. Coffee prices are volatile, and recent projections predict an increase. Operators are looking for the sweet spot: an in-room coffee maker that uses minimal coffee to deliver maximum flavor.
How to Make Strong Coffee With Smaller Pods
HBC wanted to save hotel guests from drinking weak, watery coffee. We also wanted to save hotel operators money. So we designed our one-cup coffee makers for superior flavor extraction — and then we put them to the test.
The best way to judge the strength of brewed coffee is to measure the total dissolved solids (TDS). Our two single-serve pod coffee makers — the HDC200B and the Deluxe HDC200S series — brew coffee with significantly more dissolved solids than the competition.
HDC200B / HDC200S

Leading Competitor's Pod-Based Coffee Maker

Percent Difference:

HBC vs. Competitor

6.5g coffee pod

.83 TDS

.54 TDS

↑ 54%

8g coffee pod

1.06 TDS

.80 TDS

↑ 33%
As you can see, the HDC200B / HDC200S makes a stronger brew, even when using less coffee. The secret is simple: we designed the pod holder to increase the amount of contact between the water and the grounds, resulting in a more efficient process and a stronger cup of coffee. The pod holder is both reusable (for multiple cups of coffee) and recyclable, pleasing eco-minded guests.
Not only that, but both the HDC200B and the HDC200S are:
Easy to use, with single-button operation
Extremely durable — some of our hotel partners report that they've been using the same coffee maker for 10 years!
Economical: While guests sometimes pocket K-cups to use in their home brewers, increasing costs, they leave extra pods in the room.
Your guests will taste the difference — and they'll be happier in the morning.
See Hamilton Beach Commercial's full line of innovative solutions for hospitality and travel.