Hip London-based hostel brand Generator recently announced that it doesn't want to be a hostel company anymore. "The moment we call ourselves 'hostel,' it limits us in certain markets," Generator CEO Alastair Thomann said.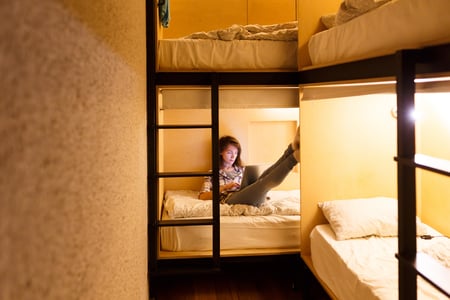 So is Generator a hotel company now? No. Instead, it will simply be called "Generator." More than a hotel branding quirk, the change reflects the widespread convergence in the hospitality industry, Thomann said, in which hostels are becoming more like boutique hotels (aka poshtels) and boutique hotels are offering dorm-style accommodations. These experiments in community-driven, non-traditional hospitality also enable hotel companies to better compete with Airbnb and its cousins.
So, when is a hotel not a hotel? Let's look at some ways hospitality companies are bending their brands.
When it's a co-living space.
Co-living spaces are similar to hotels in that they offer fully furnished rooms that include housekeeping services, Wi-Fi and a slate of social events and activities. Unlike hotels, they're intended for affordable, long-term stays and sometimes work on a membership model.
In 2018, AccorHotels opened its first Jo&Joe "open house" co-living space in the French seaside town Soorts-Hossegor, calling it a concept "that blends the best of private-rental hostel and hotel formats." There's an affordable restaurant and bar on site, as well as a kitchen for guests' use and a place to do laundry. It's not a design-driven brand like Generator, but aims to create "a community-driven, communal travel experience," Skift explains.
When it's a hotel-office hybrid.
With an increasing number of professionals leading nomadic lives, extended-stay hotels are reinventing themselves as inviting places to live and work. The Zoku micro-loft hotel in Amsterdam is designed for business travelers on longer trips. The centerpiece of each loft is a four-person table for meetings, work or socializing, making it feel more like an apartment than a hotel room. Some companies, like Roam, offer members the chance (starting at $500/week) to migrate to any of its locations: Bali, Miami, Tokyo, San Francisco, London or New York.
When it's micro-living.
Hilton recently unveiled its new brand Motto, a collection of urban micro-hotels. What differentiates Motto from a traditional hostel or poshtel? In a word: flexibility. Motto offers more than small, standard-issue guestrooms. There are rooms with a Murphy bed and lounge area; rooms with a twin bed lofted above a corner bed, to sleep three; and adjoining rooms for groups of friends, who will be able to select connected rooms and split costs in the booking process. But unlike a hostel that's all about socializing, Motto's primary obsession is sleep quality: sound-absorbing materials, blackout shades, premium mattresses and a white noise app for guests.
When it feels like your friend's house.
Halcyon, in the Cherry Creek neighborhood of Denver, calls itself a "non-hotel" because it aims to make guests feel like they're crashing with friends. Instead of a front desk, there's a "kitchen counter" where guests can snag a snack, taste the hotel's signature rum, order a drink or ask a question. Active travelers can borrow cool stuff from Halcyon's Gear Garage: Piaggio scooters, cruiser bikes, longboards, snowshoes, sleds and GoPros. Need a ride? The house Land Rover can drop you off anywhere in the neighborhood. Unlike your friends, however, Halcyon charges for these perks: the destination amenity fee is $30 plus tax per room per day.
When it's a retail showroom.
One new hospitality trend is hotels owned by non-hotel companies. Trendy home-furnishings store West Elm is opening its first branded hotel in Indianapolis in 2020, to be followed by properties in Detroit; Minneapolis; Oakland; Savannah; and Portland, Maine. West Elm hotels are intended to feel not like stores, but like a "community living room," says CEO Kim Phoebus. Each one will reflect the personality of its city, creating "a hotel focused on the local community, local culture, local makers, local art, and local employment."
The minimalist Japanese retailer Muji has opened hotels in Shenzhen and Beijing (with a Tokyo location coming in 2019.) The vibe is "anti-gorgeous, anti-cheap," a spokesman told the Japan Times — and guests can purchase anything they see by calling room service, from the toothbrush holder to the furniture.
Is your company bending the traditional definition of "hotel"?
Tell us about it!
We're always looking for hospitality trendsetters to feature in this space.