Hard bunkbeds. Grimy showers. Loud roommates.
For most people, the word "hostel" brings back decades-old memories of backpacking in Europe or surf-bumming around Costa Rica. Savvy travelers, however, know that hostels have a new face. "Poshtels" offer chic décor, fun bars and hotel-like amenities. And they're making inroads in the United States. Find out how hostels fit into 2017's competitive hotel market.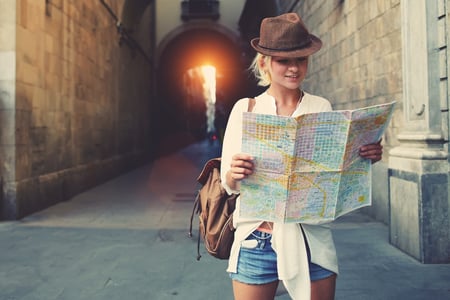 Inventing the American poshtel
Today's budget travelers have more options than ever before. AirbnB and HomeAway. Microhotels, like Pod and Yotel. Millennial-focused hotel brands, like Tru by Hilton and Moxy by Marriott. So why are hostels — distinguished by ultra-cheap rates and shared accommodations — now a thing?
Chekitan Dev, a marketing professor at the Cornell University School of Hotel Administration, sums up hotel trends perfectly: "Legacy hotels are trying to become more local, social and personal, and Airbnb is starting to become more like hotels, with standards and housekeeping support, and making owners more professional," Dev tells The New York Times. "This is the third way, somewhere between a traditional, classic, bland, boxy and boring legacy hotel and this wild, wild west of the Airbnb world."
Modern hostel guests aren't necessarily broke; they just prefer to spend their travel budget on food, drinks and experiences, rather than a place to sleep. And they want a travel experience that's memorable, unique and Instagrammable. Enter the poshtel.
Poshtels are distinguished from more staid hostels by their on-trend design, inviting communal spaces, social events and nightlife. Their guests aren't 18-year-old nomads; professionals in their late 20s represent around 40 percent of hostel guests, according to Skift.
Secrets to success in the poshtel business
The biggest challenge of effectively managing an upscale hostel is delivering a lot for a little. Even if they're only paying $30 per night, guests demand certain amenities and standards of service. Here's how some poshtels are succeeding in this space.
They encourage guests to eat and drink on the premises. Freehand Miami, a chic hostel in a former Art Deco hotel, charges as little as $29 per night for a bunk in an 8-bed shared room. Meanwhile, a craft cocktail in Freehand's Broken Shaker bar costs $12. Yep — after a guest drinks two Dollywoods (vodka shaken with rosehip, soursop, fresh lime and bitters), and tips the bartender, she's paying as much as she did for the room. Plus, in the booking process, Freehand also gives guests the option of paying just $10 to purchase a $25 credit for its restaurant. All this pays off in higher revenue per guest. Indeed, St Christopher's Inns, a European hostel group, makes 50 percent of its revenue from food and bar sales.
They stake out a brand. Every hostel is cheap, so that can't be a property's only value proposition. What's the real draw for guests? The answer should guide a hostel's branding. Generator, a European hostel chain that's opening its first U.S. location in Miami in 2017, promises "awe-inspiring social experiences." Its locations host DJ residencies, sponsor filmmakers, show movie marathons and more. "The bed is the least important thing we sell," Generator CEO Fredrik Korallus says.
They manage expectations. When you read guests' reviews for any newer hostel, two things rapidly become clear: many people relish the experience of socializing with strangers, staying up late, and sleeping in tight quarters. And some people hate it. A room one guest calls "cozy," another calls "closet-sized"; when one guest raves about the coffee in the lobby café, another's upset there's no in-room coffeemaker.
Guests can get confused when poshtels combine hotel amenities with hostel facilities. That's why staff and marketing materials both need to work hard to set accurate expectations. Resist the urge to overhype features. When a room is described as "city view" and the window faces a parking deck, guests won't be pleased.
They prioritize privacy. Even the most extroverted traveler needs a little R&R at the end of the day. Bunks in shared rooms should have curtains, reading lamps and charging stations, at the very least. USA Hostels goes a step further, promising "privacy pods" that screen out ambient noise and light (aka metal dividers around the heads of each bed) and lockers that allow for secure charging of electronics.
They don't skimp on basic amenities. Some hostels don't provide complimentary toiletries, and you'd better believe guests complain about it. Wall-mounted dispensers can be a cost-effective way to provide soap and shampoo. Complimentary Wi-Fi remains the number-one amenity hotel guests want, whether they're staying in a hostel or a five-star resort.
The other two things hostel guests really want? Good, free coffee, and breakfast that's more than a bruised banana. Hamilton Beach Commercial makes it easy with speed-brewing coffee urns, easy-clean commercial rice cookers for oatmeal and grits, and durable commercial toasters.
Would you like Hamilton Beach Commercial blenders to feature your hotel in a future post? Let us know!