We're a little weary of the word "curated." Maybe you are, too. But hotel guests have come to appreciate — even expect — a thoughtfully personalized experience when they stay at a finer hotel.
Hotels have deployed all kinds of tech to meet this demand, including guestroom AI (like Alexa for Hospitality), apps to control room preferences, and the Internet of Things. But guests want more — especially when they stay in luxury hotels, says Wouter Geerts, a travel industry consultant for Euromonitor International: "The understanding of what luxury is has totally changed. We live in a very individualistic world, but people are seeking ways to be part of something."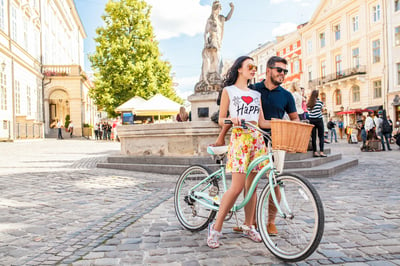 Here are three ways that hotels around the world are shaping the guest experience to be more personal, more memorable and more transformative than ever.
Increasing Access to Staff Expertise
With Yelp, TripAdvisor and thousands of bloggers and Instagram influencers, travelers enjoy an abundance of recommendations and reviews. But that's precisely the problem — in an avalanche of opinions, which can you trust?
"The work of the concierge is definitely changing from what it used to be; we are the filter of information from the Internet," Roberts Marks, president of Les Clefs d'Or USA, said in Hotel News Now. Guests now approach the concierge with recommendations they've gleaned online; the concierge's role now is to save the guest time by suggesting the one that's best.
In partnership with Foursquare, Hilton recently unveiled a new feature called Explore, which draws on local hotel staff's expertise to deliver curated recommendations for different destinations. Visiting Helsinki? Hilton's concierges suggest seeing the Senaatintori square and shopping the Kauppatori-Market.
"Rather than our guests having to use multiple apps to gain an insider's perspective, our partnership with Foursquare allows us to broaden the reach of our team members' voices and further build our ongoing relationship with guests, all within the Hilton Honors app," Joshua Sloser, senior vice president of digital for Hilton, told Skift.
Offering Hyper-Specialized Concierge Services
It's no longer enough for concierges to recommend nice restaurants and places to see. Now, many are tasked with helping guests pursue their unique passions.
Recognizing the increasing popularity of ancestry travel, The Shelbourne Dublin employs a Genealogy Butler to guide guests in their journey. In an hour-long consultation, she creates a personalized plan for an Irish ancestry search, with places to visit and resources to try.
At the Hotel Teatro in Denver, the Craft Beer Concierge organizes brewery tours personalized for guests' tastes, whether they prefer saisons or ales. The concierge presents a charcuterie board with two pints, then sends guests on a beery journey on the hotel's vintage bikes. At the Ritz-Carlton in Bal Harbour, Miami, the Couture Concierge offers guests one-on-one wardrobe consultations, appearance consulting for red-carpet events and personal shopping experiences at local boutiques.
Enabling "Transformational Travel"
The "experiential travel" trend is being replaced with something new: transformational travel. More than simply experiencing novel activities, guests want travel to challenge them, to open their eyes to other cultures and to alter their outlook in a meaningful way. Transformational travel may mean volunteering in a foreign country, taking part in local celebrations, sitting at a local family's dinner table or participating in a religious or spiritual ceremony.
Guests say, "'I want to have that live-like-a-local kind of experience,' which is what a boutique hotel, if it's doing its job well, can do," says Chip Conley, a longtime hotelier who's now strategic advisor for hospitality and leadership at Airbnb. He gave the example of hotels that are styled more like homestays, such as Sonder, which boasts text-based concierge services, comfy living rooms and locations in desirable city neighborhoods.
On the luxury end, the Mandarin Oriental in Tokyo offers guests transformational experiences they can't get anywhere else. Guests can learn bushido, the ancient Japanese code of honor, from a samurai master; dine in a private room at Kanetanaka or Shinkiraku, Tokyo's most exclusive restaurants, where first-time visitors require a formal introduction; or float down the Sumida River on a chartered yakatabune — a traditional red-lacquered boat.
Is your hotel offering personalized experiences to guests? Tell us about it! We're always looking for hospitality trendsetters to feature in this space.