"Expectations are resentments under construction," said writer Anne Lamott. That's especially true in the hotel industry right now, as staffing shortages force cuts in services.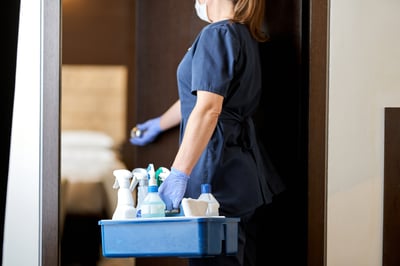 Guests expect a full free breakfast… and they get yogurt and a granola bar.
Guests expect sparkling clean rooms… and they see hasty housekeeping.
Guests expect to enjoy hotel amenities… and they discover the gym is closed and cocktail hour is canceled.
Guests were willing to lower their expectations for a while, Carolyne Doyon, Club Med's president and CEO for North America and the Caribbean, said at the recent Caribbean Hotel & Resort Investment Summit. "You know, little things that would have bothered them pre-pandemic, they were accepting. But as we are moving forward, we're back to pre-pandemic expectations" — which can be hard to meet.
In the face of widespread labor shortages, how can you improve satisfaction and prevent disappointment (and, yes, resentment) in hotel guests?
For hotel housekeeping, focus on quality over frequency.
Surveys have shown that about 70% of hotel guests still don't feel comfortable having someone enter their room every day to clean, David Kong, president and CEO of BWH Hotel Group, noted at the Caribbean summit. So eliminating or reducing housekeeping for multi-night stays can be a successful strategy.
To maximize satisfaction, give guests the option of requesting housekeeping as needed. Luxury and upscale properties are performing "tidy-ups" instead of full room cleanings. At the Kennebunkport Captains Collection, a luxury property in Maine, 30-minute tidy-ups are done every other day: making the bed, changing pillowcases and tidying the bathroom. "There is not too much grumbling," General Manager Kristen Caouette tells The Washington Post. "Nine out of 10 people are very understanding."
Do pay attention to the pressures on housekeeping staff and give them the support they need. Decreased staffing levels, reduced cleaning frequency, longer stays and more guests staying per room (because of increased family leisure travel), result in housekeepers working harder to clean rooms to hotel standards. Streamlined, easy-to-clean in-room amenities can help save precious minutes.
Reduce friction for guests — by having them do things for themselves.
Guests want "frictionless" travel, says Craig Smith, Group President, International at Marriott International. What does this mean? They want processes to be easy, with minimal human interaction: e.g. contactless check-in, digital keys, and an app to request services or make reservations. This benefits hotels by allowing front-desk staff to do more. Freed from having to check in every guest and take service calls from rooms, they can ring up customers in the lobby market or provide personalized restaurant recommendations.
Hotel food and beverage services are shifting to require less labor as well. Public, an Ian Schrager hotel in New York City, has shifted its room service into a pickup service: Order online from the hotel's LOUIS gourmet market and pick it up in seven minutes. Delivery is available for a $7 fee.
Develop a strategy for retaining the hotel staff you have now.
"If you don't, it is guaranteed there is another hotel that will try to poach your employee, right from under your nose, to fill staff shortages at their property," warns Mark Lewis-Brown, CEO & President of Vertical Booking USA. To keep employees, he recommends being transparent about pay and communicating your properties' plans for supporting staff in the event of future travel slowdowns or shutdowns.
Low pay, minimal benefits, and stress are all cited as reasons people are leaving the hospitality and restaurant industries in the United States, a recent Joblist survey revealed. Many say they'll never return, while others would do so in exchange for higher pay, bonuses and better benefits.
Offer hotel breakfast with more flavor — and less labor.
Before COVID-19, more than half of guests at upper midscale and midscale hotels viewed complimentary breakfast as a "need-to-have" part of the stay, J.D. Power's Hotel Guest Satisfaction Index showed.
The 2021 Guest Satisfaction Index revealed declines in F&B satisfaction across all segments (except economy.) "These declines are driven by lower guest satisfaction with food quality and variety, for breakfast in particular," explains Andrea Stokes, J.D. Power's Hospitality Practice Lead. Grab-and-go meals weren't enough, and guest perceptions of breakfast quality and variety declined overall.
There's no way around it: Hotels must bring back breakfast to satisfy guests. "Brands that innovate through unique F&B concepts, refreshed menus and modernized equipment will stand out — and will have the ability to push room rates more than enough to cover F&B costs," Stokes writes.
Explore Hamilton Beach Commercial's full line of commercial kitchen equipment for hotels and restaurants.