Hotel guest satisfaction is holding steady overall, the 2021 J.D. Power North America Hotel Guest Satisfaction Index Study found. But guests have one big criticism: They miss breakfast.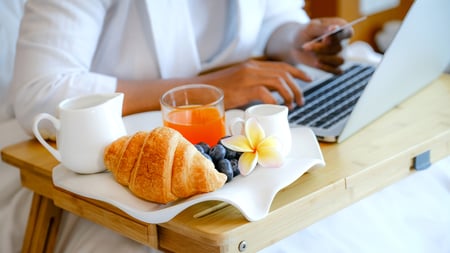 More than a third of hotels eliminated buffet breakfasts from May 2020 to June 2021, the study found. Satisfaction with breakfast offerings dropped across the board (except in the economy segment, which rarely offered hot breakfast pre-pandemic.)
"It is clear that guests expect breakfast service to resume, especially in limited-service hotels that usually provide complimentary hot breakfast," said J.D. Power hospitality practice lead Andrea Stokes. Labor shortages, food costs and COVID concerns can make this a challenge, however.
What's the best hotel breakfast to keep costs down and satisfaction levels up? Here are some innovative approaches.
Tiered/Paid Hotel Breakfast
Hyatt Place has been trying out a new approach at some of its U.S. properties: offering a basic breakfast for free, with optional paid upgrades. The complimentary continental breakfast might include an avocado toast kit, oatmeal, yogurt, and fresh fruit, The Points Guy reports, while guests can purchase items like sandwiches, pastries, or coffee drinks.
Another approach is making breakfast available as a low-cost add-on. Marriott recently offered the Breakfast for a Buck promo for guests who stay at a Four Points by Sheraton hotel and book direct. Just as advertised, it's a full breakfast and coffee for $1. In fact, guests might perceive more value in this offer than in a standard free breakfast.
MCR Hotels is launching à la carte pricing for every amenity — not just breakfast, but also gym access, early check-in, and using the pool during peak hours. This allows hotels to offer lower room rates overall, CEO Tyler Morse explains. "Hotels historically have just kept… throwing things in for free, more free stuff, more free stuff in order to compete with other hotels. We're saying, let's go the other direction. Lower the room rate, and then charge people for what they want."
Upgraded Grab-and-Go Breakfast
To-go breakfasts became a go-to for many hotels during the pandemic. They were convenient, required less staff time than a buffet, and quelled guests' concerns about sanitation. But let's be honest: Many of these breakfasts-in-a-bag were just disappointing. No one except a toddler gets excited about a granola bar, a foil-lid juice, a small yogurt and a banana. If your property goes the brown-bag route, consider asking guests to choose the items they want — either in a buffet-style setup or by filling out a checklist.
For paid grab-and-go breakfast, here's an idea from Janine Williams, the owner of hotel POS provider Impulsify: Partner with local restaurants to prepare meals for guests with hotel branding. "Going local can also provide guests with a more regional, unique experience while also supporting small, local business," Williams says.
Loyalty Program Breakfast
Loyalty can be bought, as it turns out — and the price is breakfast.
The Leading Hotels of the World, a group of some 400 independent luxury hotels around the world, recently overhauled its Leaders Club loyalty program. The program dropped its $175 fee, and members get free continental breakfast for two at all properties, alongside other benefits.
Hyatt, too, has tied free breakfast to its World of Hyatt loyalty program. For example, at its Asia-Pacific properties, Hyatt Place offers one free breakfast per guestroom for non-loyalty members or free breakfast for two, if you're a World of Hyatt member (and have booked direct). Members in the top Globalist tier can get one free hot paid food item per registered guest at properties with the tiered breakfast system.
Hilton recently shifted from offering free continental breakfast to giving a daily food and beverage credit to its Gold & Diamond Members. The credit, which can be $10 to $25 per day depending on the hotel, can be used any time of day and even at the bar, for guests who prefer a sundowner cocktail to eggs sunny side up.
Breakfast Buffet
Hotels that return to a free breakfast bar will win guests' hearts — but at what cost? Keep in mind that a breakfast bar doesn't have to be huge. The items guests want most, according to Trivago:
As your breakfast approach evolves, we have one last, essential piece of advice: Make sure your website and marketing materials have current descriptions of your F&B offerings. The surest way to get dissatisfied guests is to market a lavish buffet and deliver a cold bagel.
Explore Hamilton Beach Commercial's full line of commercial kitchen equipment for hotels and restaurants.