In some ways, travel has never been easier. You can breeze through expedited security. You can rapidly research every place you plan to visit. And you can use your phone as room key, translator and guide.
Yet travel has become even more stressful as people try to navigate a tumultuous and fast-changing globe. Skift calls this the State of Permanxiety: "a near-constant state of anxiety that exists now around the world."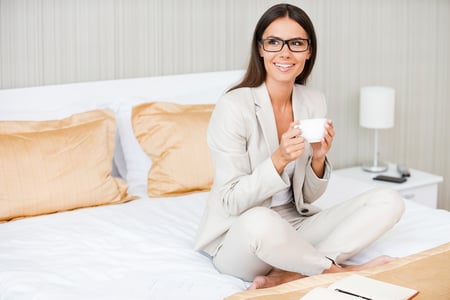 Some hotels take a Zen approach to helping travelers relax: aromatherapy, guided meditations, even offering bags of lavender from a lobby cart at bedtime. These little touches are appreciated, but there are also some practical ways to relieve guests' travel stress.
1. Actively anticipate guests' needs.
Peter Slatin, founder and president of Slatin Group, is a customer-service consultant and a frequent traveler. He's also blind. His biggest challenge when visiting hotels, he tells Skift, is navigating lobbies, because of their varying designs. Slatin misses the days when hotels had "lobby ambassadors": staff members who spotted those who needed assistance and welcomed them. The best hotels, he says, are those where a staffer, early on in his stay, say, "I'm going to watch out for you, and I'm going to make sure you are taken care of."
Slatin's experience is relevant to travelers both with and without disabilities. Now, when many hotel companies are redesigning their lobbies to serve as markets, cocktail bars and meeting spaces, are guests getting lost in the hubbub? Consider training staff to actively welcome guests and politely proffer assistance before it's requested.
That's what Marriott has done at its experimental M Beta hotel in Charlotte, N.C., where mobile check-in has actually made the arrival process more personal for guests: "What I love about that is that it gives our hosts the ability to engage further with them later," General Manager Crissy Wright tells Hamilton Beach Commercial. "I feel like it's less transactional."
2. Focus on supporting guests in transit.
Today's stressed travelers often just need somewhere comfortable to be for a while: to work, to freshen up, to relax or to nap. Increasingly, hotels are seeking to accommodate them. H Hotel Los Angeles at LAX, part of the Curio Collection by Hilton, offers a transfer lounge for guests prior to check in or after check out. There's luggage storage, a business center, refreshments and a bathroom with shower. Guests can even summon the robotic butler HANNAH to bring them things like shampoo, fresh towels or snacks.
A new frontier in hospitality is offering rooms for day use only. A French tech company, DayUse.com, partners with hotels worldwide to rent rooms for the day, generating $21 million in bookings in 2016. DayUse founder David Lebée tells CNN the service can increase hotel revenue by up to 15 percent. About 70 percent of customers are business travelers; others use the service to take a "daycation."
3. Ensure guestrooms have all the comforts of home.
In the past, hotels had fabulous amenities that travelers didn't have in their houses, observes Michael Levie, co-founder and COO of citizenM. "I don't think that's the case anymore. We have, at home, much nicer things than we find in most hotels," he says — and that's why citizenM strives to make its hotels feel like home.
Stressed guests want comforts like:
Luxurious linens. Hotel bedding trends lean toward breathable, natural-fiber sheets; washable covers on decorative pillows; and generously sized bath towels. There's another perk of offering plush towels, Trivago points out: guests are more likely to hang them up and reuse them.
Single-serve, in-room coffee makers. A single-serve coffee maker that can handle multiple types of pods, like the Single Serve Hospitality Coffeemaker, allows hotels to offer high-quality in-room coffee from prestige brands. Guests prefer name-brand coffee, hotels have found, particularly local and small-batch roasts.
A mini-fridge. The popularity of minibars has waned, replaced by lobby markets. But guests still want their fridge! When Hilton launched Tru by Hilton, its new midscale brand, it ditched the desk, bathtub and closet. However, Tru does have irons, 55-inch TVs and mini-fridges — even in its smaller, 231- to 280-square-foot guestrooms. Hamilton Beach Commercial compact refrigerators have a compact footprint fits into any guestroom. And with no defrosting required, they make life easier for hotel staff.
What's your secret for making guests say ahhhhh? Tell us about it; we're always looking for hospitality innovators to feature in this space.