Tomorrow's hotel guestroom is small and sustainable, pretty and personalized. It might look like an office; it might just be a chill place to crash. It might not have a closet, but it will definitely keep the in-room coffeemaker.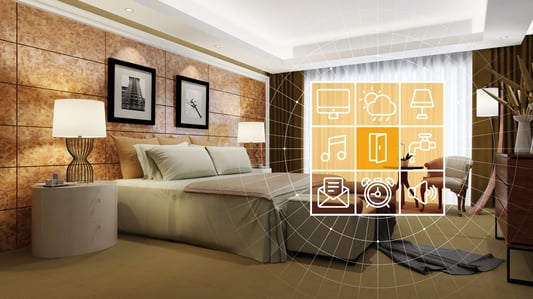 Hospitality has changed in remarkable ways over the last decade, as major brands have jostled to introduce boutique-y brands, attract the Instagram generation and keep up with the global tourism boom. What does the future hold? These are the hospitality trends we believe have staying power over the next five-plus years.
Guestrooms will keep getting smaller.
Twenty-five years ago, the average hotel room in the U.S. measured around 350 square feet. Urban hotel rooms have shrunk to around 250-300 square feet; but we're seeing a continued surge in microhotels, which have guestrooms of about 115 to 220 square feet. This trend is big in millennial-targeted hotel brand offshoots like Tru by Hilton, Moxy by Marriott and Hyatt Centric. To balance the shrinking floor plans, these brands offer thoughtful modern design and lively, spacious lobbies.
Shrinking guestrooms mirror another trend: micro-cations. Fifty-seven percent of Americans did not take a trip longer than four nights in the last year. As Stephani Robson, a senior lecturer at the School of Hotel Administration at Cornell University, told The New York Times, microhotels aren't designed for long resort stays or suburban settings. "But where real estate costs are high and length of stay is relatively short, they will be very successful," she said.
Guests expect luxury touches at midscale properties.
Basic won't cut it. "Just because they are not paying $500 per night doesn't mean they'll accept poor design," Marriott International global brand officer and luxury portfolio leader Tina Edmundson told Business Travel News. "And customers expect it when they are going to their hotel and spending $100 a night; they still want a high-design sensibility."
What are they looking for, specifically?
Guests will be able to customize their rooms.
We've written before about small ways hotels are seeking to personalize the guest experience, but that's just a preview of what's to come. Research from Amadeus and the InterContinental Hotels Group (IHG) found that 61% of global travelers prefer a hotel pricing model that allows them to add on bespoke options. Imagine requesting a particular room layout, or furniture combination, instead of the standard two queens or a king. Everything will be personalized: fragrance, lighting, snack and drink selections, streaming channels… "This will see the emergence of attribute-based booking, where guests pick and choose the individual components of their room, marking the end of traditional room types," the IHG study predicts.
Sustainability will get serious.
The shift to sustainable practices is accelerating in the hospitality sector. Mandarin Oriental Hotel Group has pledged to eliminate the use of all single-use plastics by March 2021. Brands like Four Seasons, Hilton, AccorHotels and Hyatt are getting rid of plastic straws. And Marriott made headlines by announcing it would replace all tiny soap and shampoo bottles with large dispensers. "When fully implemented across the globe, Marriott International's expanded toiletry program is expected to prevent about 500 million tiny bottles annually from going to landfills; that's about 1.7 million pounds of plastic, a 30 percent annual reduction from current amenity plastic usage," the company says.
Not only are these decisions good for the earth, but they're savvy business decisions. Sustainability is a high priority for millennial travelers, as Trivago reports, and two-thirds of consumers worldwide are willing to pay more if a company is committed to having a positive environmental and social impact.
Labels will be torn off.
Many millennials feel at home anywhere in the world — and hotels are transforming to match this nomadic aesthetic. Trends point to shifts in hotel branding, with some hotels adapting to become more like co-working spaces, hotel-office hybrids, and even retail stores.
The co-living approach — in which people check in and stay for several months — is one we predict will continue to gather momentum. These digital nomads want homey comforts, shared kitchens and socializing spaces, and plenty of room to work. "From my experience, hoteliers are very interested in learning about it because it's something new," Casa Campus founder Fahad Siddiqui told Hotel News Now. "It's a whole new demographic of people living in a different way with different expectations. They want to understand how to capture that."
Discover Hamilton Beach Commercial's full line of innovative hospitality solutions for guestrooms and breakfast bars.