A few years ago, room service seemed like it was fading away. Room service rarely makes money — it represents just 1.2 percent of a hotel's average revenues, according to 2012 figures. Not only that, but room service requires increased staffing and longer kitchen hours.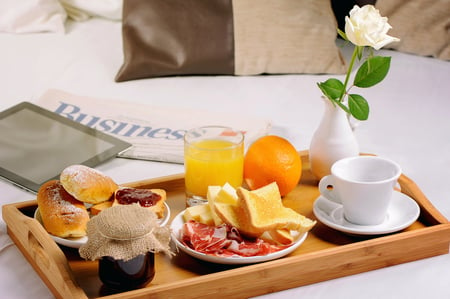 But the pendulum always swings back. While many high-end hotels, such as the New York Hilton Midtown, have done away with room service entirely, others have made in-room dining a pillar of their brand. Their secret: They cater to a particular audience, whether that's outdoorsy adventurers with dogs (at The Little Nell) or late-night partiers (at The Cosmopolitan.) These five hotels have elevated room service to an art.
The Mark, New York City
Chef Jean-Georges Vongerichten's room service menu "reads like a novel," Conde Nast Traveler says. It's no exaggeration; the seasonal menu runs about 11 pages, including weekend brunch, desserts, midnight snacks, cheese and caviar. Prices are, unsurprisingly, astronomical. Avocado toast is $18; a basil margarita is $39; and a dry-aged New York strip is $89.
Room service standout: Gourmet picnic baskets. The "Remarkable Experience for Two" picnic basket, which includes shrimp cocktail, cheese, a salad, Osetra caviar, a fruit pie, a bottle of Billecart-Salmon Brut Reserve NV and other delights, is $375.
The Little Nell, Aspen, Colorado
The Little Nell is a 100-room, ski-in, ski-out hotel on Aspen Mountain. Its room service menu has options for action-oriented travelers, including boxed lunches, hiking snack packs, and even custom-assembled meals to take on the plane as you depart. Lemon soufflé pancakes with toasted pine nuts and raspberry syrup sound like the perfect fuel for a day on the slopes.
Room service standout: The pet menu. For $18, The Little Nell serves visiting dogs a bowl of ground beef, grilled chicken breast or salmon, mixed with carrots, brown rice and scrambled eggs.
The Cosmopolitan, Las Vegas
It's not surprising that 24-hour room service abounds in Las Vegas, the city of night owls. It's hard to pick out the best room service, but The Cosmopolitan's offerings stand out. It's not because the food is fancy, but because it seeks to satisfy. Every kind of comfort food and indulgent snack is represented: chicken wings, pizza, macaroni and cheese, even a donut filled with cheesecake. For Asian guests, congee (rice porridge) is offered, both plain and with preserved egg and pork.
Room service standout: The "crowd pleasers" menu. Need to feed your bachelorette party? The Cosmopolitan serves platters for 10 guests, such as nachos or fruit and cheese. The Game Day ($325) includes four pizzas, 13 braised beef sliders and a bucket of buffalo wings.
The Plaza Hotel, New York City
Did your stomach flip at the thought of eating a bucket of wings for dinner? Check into the Plaza instead. The legendary luxury hotel offers one of the best room service menus for people who are health-conscious or have strict dietary limitations. It's not just one or two items, but a full range of thoughtfully crafted appetizers, entrees and desserts for people who are diabetic, have celiac disease, or eat a macrobiotic, raw or DASH diet. For example: ahi tuna tartare with Spanish olives, almonds, romesco and toast. ($27)
Room service standout: The desserts. People on special diets deserve sweet treats too, so the Plaza offers sugar-free cheesecake, a celiac-friendly flourless chocolate cake, and fresh fruits. ($16)
SLS South Beach, Miami
The in-room dining at this chic Miami hotel is anything but ordinary. Chef José Andrés has created a menu that combines his own Spanish heritage with Miami's Cuban heart. For breakfast, try the Catalan 'Pa amb Tomàquet' with toasted bread, fresh tomato, olive oil, jamón serrano 'Fermín' and manchego cheese. Best of all, room service is available 24 hours a day.
Room service standout: The "Cuba meets Paris" sliders: mini croissants with roasted pork belly, Serrano ham, Swiss cheese, pickles and mustard. ($18)
What do guests love about your in-room dining program? Tell us and we may feature your property in a future post.