One of the biggest hospitality trends isn't big at all: It's the incredible shrinking guestroom. Five years ago, the standard room in a newly built business hotel was 350 square feet; now it's 275. Boutique hotels that aim to attract millennials are reducing rooms even more. Vīb by Best Western has "comfortably chic" rooms measuring 200 square feet. At Tru by Hilton, they're 225.
Smaller guestrooms are cheaper to build, easier to clean and have a better ROI per square foot. The trend fits changing guest expectations and a reimagination of hotel lobbies as places to socialize, work and play. But no guest wants to feel squished — so how can small rooms be designed to feel big?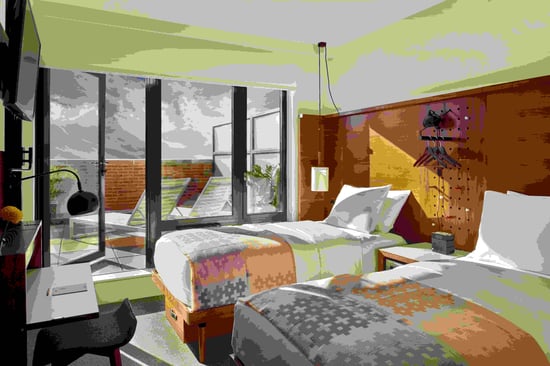 Guestroom at the Arlo Hotel - Hudson Square, Manhattan (Photo courtesy of Arlo Hotels)
Opt for multifunctional furnishings.
Hotel operators have learned that some room features are largely obsolete and can be removed: closets, dressers, bathtubs and minibars. But travelers — including millennials — aren't ready to give up essentials like desks and nightstands. The solution is furniture that can fulfill multiple purposes.
Arlo Hotels, a microhotel chain in New York City, decided to install small desks that flip down when not in use. When closed, the top of the desk's cabinet is wide enough to serve as a console and charging station. Instead of a closet, there's a peg wall with movable pegs (like a cribbage board) to hold clothes, bags, cords or anything else. The platform beds include storage. And it's all done in rich wood for a luxe look — check out these photos of Arlo's SoHo location. Even the little things can serve multiple roles, like alarm clocks with USB charging ports.
Lift fixtures off the floor.
When you only have 225 square feet, every inch of floor space counts. That's why smaller guestrooms benefit from having as many fixtures as possible affixed to the walls or the ceiling. Think swag lights, hanging chairs, fold-down tables, wall-mounted TVs and shelves in lieu of freestanding nightstands.
Add glass to the bathroom.
Hotel design master Michael Suomi of Stonehill & Taylor made Hyatt Regency bathrooms feel larger even while trimming 50 square feet of guestroom space. "We put the toilet in an opaque glass compartment and the shower in another compartment, but the vanity is 5 feet wide and open to the guestroom," he told Hotel Management. "The grooming area can be closed off with a sliding panel or left open to make the room bigger."
It's all about flow.
Remove extraneous walls and enlarge openings to make a smaller guestroom feel spacious, designers say. Think about how guests move within the space — can they easily walk from the bed to the bathroom? Or do they have to maneuver around furnishings?
Also consider how flooring defines the space. Hotel design trends have moved away from broadloom carpet. A single, hard-flooring surface, such as tile or engineered wood, makes the room feel more open, Suomi says. "If you put all of the same floor finish in the bathroom and into the guestroom, it makes the room feel bigger by continuing that same floor finish everywhere," he said.
Put guests' needs first.
If space is limited, guestroom design should prioritize the same things guests do. If a hotel doesn't see many business travelers, for instance, it's probably fine to keep irons and ironing boards at the front desk. But if you remove the in-room coffeemaker, prepare for a backlash: Guests want their own single-serve coffeemaker, even if there's coffee available in the lobby.
Tailoring guestrooms to the target audience not only makes guests happy, but persuades them to come back. "What I think is going to happen is, there will become a different brand for every niche, and you'll become loyal to the brand that gives you what you want, like coffee, a closet and a desk if you're a business traveler," Stephani Robson, a senior lecturer at the Hotel School at Cornell University's SC Johnson College of Business, told The New York Times. "But right now, with all these new brands, it's hard for the average consumer to keep them straight."
How have you adapted your properties to the latest hotel design trends? Tell us about it and we may feature your company in a future post.