On TripAdvisor, we stumbled across a hotel review titled: "Amazing hair dryer, but terrible beds!" The reviewer didn't sleep well, but nevertheless rated the hotel three stars:
"The reason I'm not giving this facility a 2 is because I LOVE the hair dryer... yes this is silly, but so many hotels have the worst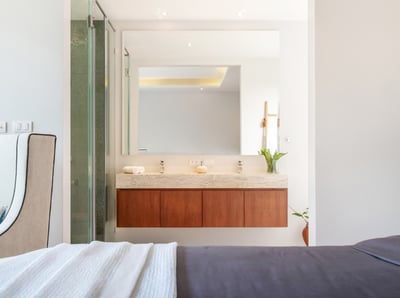 blow dryers ever... I want to take this one home."
Hotel owners should take note. While a blow dryer isn't the most important object in the guestroom (we'd argue that the coffee maker earns that title), it has the potential to change your guests' attitude, for better or worse. These key questions will help you choose a hotel hair dryer that fits your property and your budget, while helping all your guests have good hair days.
Wall-mounted or handheld?
Hotel hair dryers that are wall-mounted have several advantages:
They're easy for guests to find
They deter theft
They require no counter or storage space
They turn off automatically when replaced in the holder
They save hotels the hassle of providing and replacing storage bags.
Two Hamilton Beach Commercial wall-mounted hair dryers also have a built-in nightlight: the white Model 8301 Wall-Mount Hair Dryer and the black Model 8301B Wall-Mount Hair Dryer.
However, wall-mounted hair dryers aren't a good fit for every property. We've seen hospitality trends moving toward handheld models, as some guests simply prefer a more powerful hair dryer (more on that in a moment). And the guestroom layout matters, too: Can the bracket be installed next to a wall plug in the bathroom? And can a guest easily see themselves in the mirror while using the hair dryer?
High-powered or low-wattage?
Hotel room hair dryers range from 1500 watts (for the wall-mount models) to 1875 watts for a full-size, handheld model. At first glance, it seems that bigger is better; but can your system handle it? Older properties without updated electrical systems are safer with lower-watt hair dryers.
A good compromise is the Model HHD610 Midsize Hair Dryer. At 1600 watts, it won't overtax your hotel's circuits, but it's powerful enough to get the 'do done. The HHD610 also includes two nice perks: a cool shot button and a removable concentrator.
In the end, choosing the best hotel hair dryer comes down to knowing your guests. Get a lot of business travelers who need to look their best? It's worth investing in higher-end blow dryers, like the Model HHD601 with 1875 watts, three speeds, a folding handle, retractable cord, and an anti-frizz tourmaline coating. (Tourmaline is a semiprecious gemstone that, when powdered and incorporated in a hair dryer, adds negative ions to the stream of air.) Another option on the higher end from Hamilton Beach Commercial is the Full Size Model HHD620, which features the same 1875 watts of power and two speeds.
If, on the other hand, you run a budget tourist hotel in a city center, where guests are more concerned with getting out and seeing the sights than fussing with their hair, a compact wall-mount dryer is your best bet. Whichever model you choose, you can rely on Hamilton Beach Commercial hair dryers to stand up to years of heavy use.
One last note: Make sure your housekeepers are cleaning your guestroom hair dryers! They were the recent target of a "Good Morning America" investigation that found the hair dryers in several Los Angeles hotels to be unsanitary. Clean the handles regularly to remove sticky hair products, and keep the filter and vents free of dust and lint.
Discover Hamilton Beach Commercial's full line of smart solutions for the hospitality and travel industries, from in-room coffee makers to breakfast bar staples.