Hotels in the United States and elsewhere in the world must now work to attract those guests who are considering a return to travel, says Taimur Khan, who is Vice President and GM, Global Transportation, Travel and Hospitality Solutions Team for Salesforce.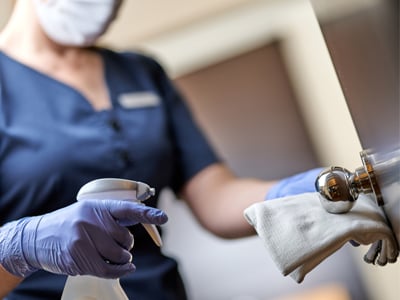 "For this next cohort that has never traveled in the last seven, eight months, their health and safety is going to be paramount. They have to be made comfortable," Khan advised in a recent roundtable discussion sponsored by the Cornell School of Hotel Administration at Cornell University.
Making guests comfortable: It's what hoteliers do best, but it's also an enormous challenge in the age of COVID-19. Hamilton Beach Commercial analyzes the roundtable experts' recommendations for hotel cleanliness and communications, and offers a few of our own.
Expert Tips for Reassuring Hotel Guests
Show the clean. Like most other hotel chains, Wyndham has adopted new, stringent cleaning standards. But, said Rachel Dabrowa, Senior Director of Operations Solutions & Standards for Wyndham Hotels and Resorts, "It's really not enough to just talk about cleaning protocols anymore. A guest really needs to feel them, and see the clean."
Provide visual reassurance. Travel writer Natalie B. Compton expressed delight at Hyatt's "Rest Assured" program, which places cards or stickers on high-touch guestroom surfaces to confirm that they've been cleaned. Essential items like remote controls can be sanitized by housekeeping and then sealed in plastic with the PrimaVac™ Out-of-Chamber Vacuum Packaging Machine. Quick and low-cost, this technique provides visual reassurance of cleanliness. We've even tested sealing an entire Hamilton Beach Commercial pod coffeemaker — it works like a charm! The soft coffee pods themselves come individually wrapped.
Learn more about vacuum sealing for hotel sanitation
Promote digital interaction. "We've seen an incredible surge in the use of our mobile app," Scott Taber, Senior Vice President, Rooms, for Four Seasons Hotels and Resorts, said during the roundtable. He advised putting everything you'd find in the guestroom in the app: menus, amenity listings, reservations and schedules, bedding preferences, and a chat function to communicate with staff. Not only that, but the app can start the hotel's engagement with a guest long before they check in, communicating health and safety protocols. "You can almost visibly see them feel more comfortable" when they arrive, he said.
Use healthcare as a model. Healthcare has long borrowed from hospitality, observed Dr. Joshua Newman, Senior Vice President of Healthcare for Salesforce: "Rooms have gotten cleaner and nicer and more comfortable. Food has gotten better. There's even valet parking." Now, it's time to consider what hotels can learn from hospitals. Consider tactful methods of inquiring into guests' health concerns and health goals, Newman said, so that a hotel can tailor its offerings.
Give guests control. For most Wyndham properties, "daily guestroom cleaning is a thing of the past," Dabrowa said. The chain is letting guests choose the services they receive, as well as providing them with personal sanitation amenities — disinfectant wipes with their keycards at check-in, travel size hand sanitizer in every guestroom — so they can maintain their own level of cleanliness."
Rethink amenities. For years, hotel operators have been experiencing the phenomenon of "amenity creep," Dabrowa said: the addition of more and more features to the guestroom and the guest experience. "Right now, both Wyndham and the entire industry have the opportunity to reset what's important to the guest." Take out non-essential items, such as decorative pillows or pens. Focus on what's important: "a clean room, a safe experience, and that great customer service."
Think of new ways to provide core amenities. Fitness facilities are a must-have for many Four Seasons guests. So the chain has set up guestrooms with exercise equipment, where guests can make an appointment to safely exercise solo, without a mask.
Provide employees with the knowledge they need. Early in the pandemic, the Four Seasons in New York City housed frontline healthcare professionals — "some of the highest risk people in the world at that time," Taber said. The company brought in external healthcare experts to explain the correct protocols to staff to reduce their risk and debunk misconceptions.
Stay focused on hospitality. Guests still want the same things, Taber said. "They want personalized care. They want intuitive service. And they want attention to detail, provided by our great employees around the globe. … They're looking for a brand that they can trust."
Hamilton Beach Commercial has long been a trusted partner of hoteliers all over the globe. We'll continue supporting you with strategies for surviving and thriving, as well as high-quality equipment to make your guest experience impeccable.