In the hospitality industry, disruptors are nothing new. There was a time (pre-WWII) when only the wealthy stayed at hotels, as Chip Conley, head of global hospitality and strategy at Airbnb, pointed out at a recent conference. Ordinary Americans stayed in boarding houses.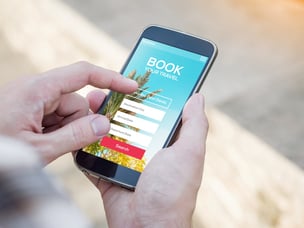 Now, ordinary travelers are using Airbnb and other home-sharing services. Airbnb demand is still less than 2 percent of hotel demand in the United States, but it's growing fast. How can hotels compete?
Hotels vs. Airbnb: Competing on comfort
My husband and I recently used Airbnb to rent a small urban apartment. As we fiddled with the lockbox the host had left on his door, his next-door neighbor came down the hall. "Oh," she said, her eyebrows rising. "Is he doing Airbnb?" She was friendly, but her tone made us feel like we weren't supposed to be there. We spent the rest of our stay sneaking in and out of the lobby, trying to avoid the gaze of the concierge.
Then, my husband noticed something unexpected in the living room. "Is that… an urn?" he whispered, pointing to something perched on a pedestal. It was. Petrified of knocking over such a cherished possession, we gave it a wide berth.
While many Airbnb properties are unique and charming, there's still that awkward feeling of being a houseguest. That's why hotel marketing strategies need to re-emphasize all the benefits of hotels that have long gone unspoken: Security. Cleanliness. Standard in-room amenities. And most of all, that worry-free, kick-off-your-shoes feeling that home-sharing services just can't offer. One recent study suggests that boutique hotels have the edge here, because they "deliver a smaller footprint with unique, local flair and a sense of luxury" — just like Airbnb.
Hotels vs. Airbnb: Competing on tech
Airbnb's success isn't due entirely to the merits of its concept. It's all about the data. As eHotelier notes, Airbnb is more than a facilitator of peer-to-peer transactions; it's monitoring and optimizing the user journey on both the guest's and host's side. "Since every phase of the user experience is completed through Airbnb's channel, they're able to leverage the data to improve the guest experience, build their product and find new growth opportunities."
Most hotels, on the other hand, have a fragmented view of their users' journeys. There's a big opportunity here: Choose an analytics platform that brings all your guest data together on one place, so you can see behavior patterns and better understand what guests want and need.
Hotels vs. Airbnb: Competing on service
Amassing data is only useful if you use it to improve guests' actual experiences. Red Lion Hotels uses its data to make each guest feel uniquely welcomed, MediaPost reports. At check-in, a "whisper screen" prompts employees to offer a personalized greeting, such as best wishes on an upcoming birthday or a polite inquiry into a recent stay. Guest data also allows staff to offer unusual and unexpected perks for a guest's particular needs, such as free babysitting for a traveler with children.
Hotels also should concentrate on matching and exceeding the hospitality Airbnb hosts are known for. "That's the first lesson for hoteliers as they try to decipher the best response to the home-sharing phenomenon: They need to infuse a greater sense of caring, friendliness, assistance and hospitality into their operations," Hotel News Now says. That means training staff to be more enthusiastic, warm and genuine.
Hotels vs. Airbnb: Competing on price
Guests have come to assume that Airbnb and other home-sharing sites will always be cheaper than hotels. That's not necessarily the case, one recent survey found. Airbnb was generally less expensive in cities like Venice, Paris and London; but in Barcelona, hotels were cheaper by almost $140 per night, on average.
Also, local governments are beginning to slap occupancy taxes and fees on Airbnb hosts. In June 2016, Chicago passed an ordinance mandating a $60 fee for each address listed on Airbnb and a 4 percent surcharge to fund services for the city's homeless. San Diego requires a 10.5 percent Transient Occupancy Tax; in Washington, D.C., it's 14.5 percent. Other cities are taking aim at home-sharing, period, by imposing regulations on who can rent out their home and for how long. In the long run, rules like these may level the playing field.
What strategies are you trying to compete with Airbnb and other home-sharing services? Tell us about it and we may feature your property in a future post.