For a while, hotel operators focused intensely on reducing single-use plastics. Travelers, eyes open to the devastating impact of plastic trash on oceans and beaches, demanded more sustainable options. Governments imposed restrictions on plastics, including the EU's ban on certain single-use plastic items and California's ban on small plastic toiletry bottles (New York has since followed suit).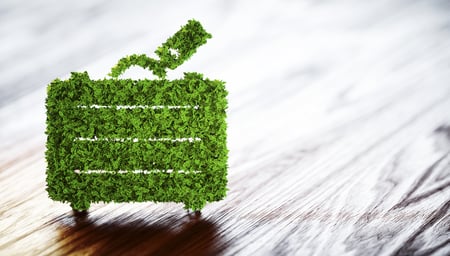 The COVID-19 pandemic paused these efforts, but also forced a shift in thinking. While plastic use remains a problem, climate change has been thrust into the forefront — and for hospitality professionals, addressing it is no longer optional.
The Cornell University School of Hotel Administration recently hosted a roundtable, "Sustainability in the Hospitality Industry: Challenges and Opportunities," with some leaders in the field. Here are some key takeaways.
Climate change is the most important focus for sustainability efforts now.
"I think there was an awakening that happened during the pandemic," observed Denise Naguib, Vice President of Sustainability and Supplier Diversity for Marriott International. The pause in travel caused people to take a hard look at how sustainability involves everything they do, she says, and brought carbon and climate to the forefront.
Today's most climate-conscious customer is what every customer will look like in the near future, said Patrick Flynn, Vice President of Sustainability for Salesforce. "There won't be a next beyond climate change. There's not going to be a new fad. All we're going to see is a deep appreciation of how pervasive, systemic, irreversible and urgent it is."
Making a serious commitment to sustainability in hospitality is no longer optional.
In the spring of 2021, Salesforce notified its suppliers — including hotels — that climate change and climate change provisions would appear in all future procurement contracts. Contracts will require suppliers to set science-based targets, to disclose their greenhouse gas emissions, and to deliver products and services on a carbon-neutral basis — or pay a price, Flynn said. "It's really I think, a first-of-its-kind contractual move to make climate change toothy, and to show up in procurement contracts."
Institutional investors, too, are paying attention to sustainability, said Geraldine Guichardo, Global Head of Research for JLL's Hotels & Hospitality Group and Head of Americas Hotels Research. They're making this decision "not as a nice thing to do, but actually building out teams and hiring resources that specialize in sustainable real estate."
To make a change, hotel operators must measure their impact.
Solid waste reductions are easy to measure. For example, when Marriott's 7,000 hotels began switching (pre-pandemic) to large, tamper-proof bottles of shampoo, conditioner and shower gel, the impact was estimated at 1.7 million pounds per year.
Climate impact can be tougher to calculate, but it's not as hard as you think! The Sustainable Hospitality Alliance offers free tools for hoteliers. One is the Hotel Carbon Measurement Initiative (HCMI), a tool for hotels to calculate the carbon footprint per occupied room on a daily basis and per area of meeting space on an hourly basis. The Hotel Water Management Initiative does the same for water usage for rooms and meeting space.
Describe your hotel sustainability impact in terms guests understand.
A recent poll from Virtuoso, a global network of luxury travel agencies, found that half of the travelers surveyed said it's important to choose a travel supplier with a strong sustainability policy. 82 percent said the pandemic made them want to travel more sustainably in the future.
But technical stats and scores don't matter to guests, Naguib pointed out. "Narrow it down to what's most meaningful to the traveler… They're talking about, 'What do I see when I walk into my room? What experience do I have? What information do I have in my booking pass to actually understand these options? What do I see on the menu?'"
Look beyond your four walls.
There are three categories of carbon emissions a business must measure, explained Jake Shirmer, Senior Manager and Sustainability Specialist for Deloitte.
Scope 1: Direct emissions (fuel burned on site and in company vehicles)
Scope 2: Electricity used
Scope 3: Indirect emissions, upstream and downstream, including commuting, products and services purchased, waste disposal, logistics providers and more.
In the hospitality sector, Shirmer says, more than 80% of emissions lie in Scope 3. This means hotel operators can't go it alone, but must work with vendors and clients to achieve meaningful improvement.
Hamilton Beach Commercial can help. We manage our business in a sustainable, socially and environmentally responsible manner. Our commercial foodservice equipment can help reduce food waste and get the most out of your inventory. Most importantly, we build our products to last and last: which means less waste, lower costs and lower emissions in the long term.
Download our free eBooklet, A Case for Durability. For more good thinking in hospitality, see Hamilton Beach Commercial's full line of products for guest rooms, extended-stay suites and breakfast bars.