People don't want to deal with people.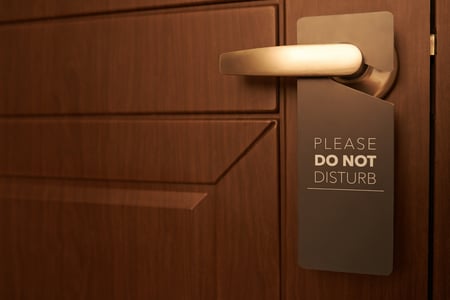 That's the stark truth underlying many hospitality innovations: text-based room service, apps that allow hotel guests to request amenities, and grab-and-go markets in lobbies.
This move toward letting guests serve themselves dovetails with increasing labor costs for hotels, as it becomes harder to hire and retain stellar staff. But here's the challenge: Can self-service F&B impress guests?
"If you're going to do F&B in a hotel setting, be bold. Be passionate about it. Take risks, and do something terrific," Anthony Langan, corporate director of beverage & food, boutique & lifestyle hotels for Vision Hospitality Group, said at the 2018 Southern Lodging Summit.
Is it possible to deliver bold and terrific food and beverage in a self-service format? Of course!
Self-service wine stations
The hotel bar will always be a cherished place to meet friends, mingle with other guests and relax after a long day. But sometimes, guests just want the drink with none of the chit-chat. Enter the wine station: a sleek counter-top serving station that dispenses precise pours. The wine is preserved with argon gas, keeping it perfectly fresh for weeks.
"The wine revenue has increased significantly and our customers are intrigued by the experience," David Harb, general manager of the Hyatt Regency Dubai & Galleria, said in a testimonial for Napa Technology, one company that makes wine stations. One fascinating stat: Napa reports a 47 percent increase in sales when half-glass servings are offered.
The Confidante, a Miami boutique hotel, upped the ante by placing Plum Wine machines in guestrooms. These machines serve one red and one chilled white; tastings are priced around $4-$5, while a 6-ounce glass costs $12-$16. The cost is automatically charged to the room, and the machine notifies staff when a bottle runs out.
We've seen fewer instances of self-service cocktails in hotels, but there are a few ways to do it. Some boutique hotels have experimented with offering DIY in-room cocktail kits, consisting of pre-made mixers and liquor. And a few, like Hazlitt's in London, provide honesty bars that allow guests to make their own drinks. These applications are best for small, niche properties, however.
Better breakfast bars
Hotel operators recognize that the breakfast bar is a crucial brand differentiator. When it's part of the nightly rate, it factors in heavily to a guest's assessment of value. If the coffee is fresh and the food delicious, a guest leaves with a lasting, positive feeling.
But in an effort to outshine the competition, hotels sometimes sacrifice quality for quantity, observes Keri Putera, VP of brand operations at Wyndham Hotel Group's Travelodge Hotels. Speaking of economy brands in general, she said, "we've added so much to the continental breakfast that it becomes cost prohibitive to the owner and we find guests are not eating all of it."
The solution: streamlining the menu while offering hearty, healthy fare that's fresh and presented beautifully. A high-quality commercial rice cooker, for oatmeal and other grains, is essential, as is a slate of efficient commercial toasters. Consider topping bars that allow guests to create their own bowls or parfaits. Tru by Hilton has seen success with the Top It! breakfast bar concept, which offers around 30 ingredients to customize oatmeal, bagels, yogurt and cereal.
High-quality in-room coffeemakers
We've all been there -- staying at a midscale hotel while you're out of town for a conference. The staff are supremely helpful; the bed is supremely comfortable; and the in-room coffee is supremely awful. Even though the rest of the stay is pleasant, you can remember struggling to get out the door for a 7 a.m. flight with only a cup of brownish water to sustain you.
The moral of the story: Invest in a high-quality in-room coffeemaker. We call the Single-Serve Coffeemaker from Hamilton Beach Commercial the "A to Z cup maker" because it's compatible with multiple brands of coffee packs. Choose the roaster your guests like best, or offer a varied selection.
Some hotels go all out with the in-room coffee, offering espresso machines or a complicated pour-over apparatus. But the average guest isn't interested in investing that much effort; they just want a delicious, strong, cup of coffee they can make themselves.
Discover more Hamilton Beach Commercial solutions for hospitality.