Modern guestrooms are losing a lot of things: Closets. Desks. Even dressers. But what about the coffeemaker? Is that an essential amenity, or an unneeded luxury?
This turns out to be a subject for passionate debate among frequent travelers. Some can't live without in-room coffee. Others prefer to get their fix in the lobby. One thing's clear: most guests believe complimentary caffeine is a constitutional right. Here's how to keep them happy.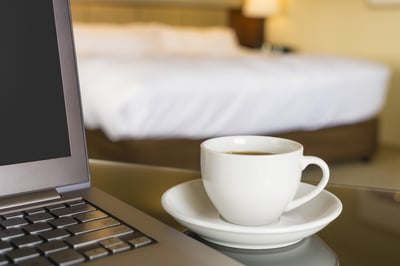 Is offering in-room coffee still necessary?
Coffee snobs love to criticize the flavor of in-room coffee. Forbes writer Kim Westerman lists the reasons: the taste of tap water, the addition of water softeners, the poor quality of the coffee itself. Germophobes chime in, questioning the cleanliness of the hotel coffee maker itself. (Get more tips on allaying germophobic guests' fears.) Westerman says she much prefers getting her coffee from a lobby café: "The extra $3, and a five-minute walk to real coffee, is an immeasurable tradeoff for the aesthetic pleasure a proper cup provides."
Other guests, however, balk at the suggestion that they must walk down to the lobby, unshowered and possibly in pajamas, to get their morning caffeine fix. "It's kind of sad but I often *need* the in-room coffee to even function enough to find the lobby (much less to do so fully clothed, etc.)," confesses one commenter.
Longtime travel blogger Ben Schlappig actually polled his readers: "Given the choice between complimentary in-room coffee and complimentary coffee in the lobby, which would you choose?" Of the nearly 800 people who responded, about two-thirds said lobby coffee.
For hotels, the takeaway is this: To satisfy guests, they've got to offer both. And they've got to do it well.
What do guests want from in-room coffee?
Some hotels have gone a little nuts with the attention lavished on in-room coffee. The best example is Philadelphia's Roost Apartment Hotel, where "guests can grind whole La Colombe Coffee beans in a Baratza Virtuoso Grinder, heat Vero filtered water to 205°F in a Bonavita Gooseneck Electric Kettle, and pour it in a circular motion through a glass Chemex Coffee Maker atop a Hario Drip Scale," Conde Nast Traveler writes. "Why have a coffee shop in the lobby when you can have the coffee shop in your room?"
Hotel Sorrento in Seattle treats its guests to French press coffee with real cream. Another option: Deliver a free pot of freshly roasted coffee to guestrooms each morning. That's what Omni Hotels does for its loyalty program members, winning it rave reviews.
But what does the average, non-coffee-obsessed guest want in their room? First of all, they want a pod-based, single-serving coffee maker. At Hamilton Beach Commercial, we call the Single Serve Hospitality Coffeemaker the "A to Z cup" coffee maker, because it handles not only K-cups but any compatible pods. Using a flexible single-serve maker gives hotels the ability to offer a variety of high-quality in-room coffee without having to sign a contract with a specific roaster.
"High-quality" is the important word there. Guests prefer name-brand coffee, like Starbucks or Green Mountain. Hilton reports seeing "a significant increase in consumption" since switching to Coffee Bean. Even budget brand Red Roof Inn has begun serving Seattle's Best Coffee in its premium rooms.
How can hotels upgrade the lobby coffee experience?
Offering it early. The Sheraton Frankfurt Airport won blogger Schlappig's love and adoration by doing one simple thing: setting up a complimentary espresso machine and croissants in the lobby at 4 a.m. Desperate, jet-lagged guests will be forever grateful.
Partnering with a local roaster. The chic Ace Hotel chain builds relationships with specialty coffee roasters, which either provide the hotel's coffee or operate lobby cafés. In Portland, Ore., it's Stumptown Coffee Roasters; in London, it's Square Mile Coffee Roasters.
Having a signature coffee blend. Richmond, Va.'s Quirk Hotel collaborated with local coffee roaster Blanchard's to create Quirk Coffee, a popular blend "with notes of nectarine, honey, graham cracker, and sage."
Giving guests options. Travelers like choices. Serve not one, but a selection of favorite local blends. The Brewstation Coffee Urn from Hamilton Beach Commercial, available in three sizes, makes it easy with speed brewing and removable stainless-steel tanks.
What do guests love about your coffee program? Tell us about it and we may feature your property in a future post.