What's the one thing that can make or break guest satisfaction? It's not the pillow menu or the fitness offerings; it's the hotel breakfast.
Because the breakfast bar is often included in the room price, its quality factors heavily into guests' assessment of value. Limp offerings of off-brand yogurt and underripe bananas dampen the guest experience; surprisingly good coffee and creative combinations elevate it.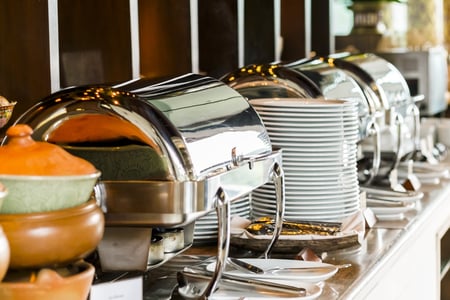 How do the best hotel breakfast bars bring guests back again and again? Here are five fresh ideas.
1. Redefining the "continental" hotel breakfast
If American guests are getting tired of the standard scrambled eggs, bacon and cereal, consider surprising them with some European-style breakfast items. This could mean British sautéed mushrooms; Polish potato pancakes; French croissants; or Spanish churros.
AC Hotels, a Marriott brand that is bringing European style stateside, offers Spanish egg tarts, Iberico ham, croissants, fresh fruit, cheeses, muesli, yogurt and espresso at its breakfast bar. Presentation is key. Some locations feature curvy white ceramics and a gleaming red slicing machine on which prosciutto is freshly shaved.
2. Serving Scandinavian-style breakfast
Look north for inspiration. Scandinavian and Nordic hotels are famous for hearty breakfast bars that permit guests to assemble their own meals: fresh breads, meats, cheeses and vegetables for sandwiches, plus yogurts and grains.
The Kitchn asked Scandinavian cookbook authors for their favorite breakfast dishes, and the results are mouthwatering (and easily transferable to a hotel breakfast bar concept): slow-cooked oatmeal topped with cream and wild blueberry jam; porridges made with fragrant spices; and crispbread topped with cheese and chopped garnishes, like pickles, hard-boiled egg or dill.
3. Taking the DIY approach to hotel breakfast
To satisfy guests' desire for variety, a hotel can serve a wide variety of prepared breakfast foods — or simply offer the ingredients, and let guests make their own. That's the philosophy behind the Top It! breakfast bar concept at Tru by Hilton. Some 30 ingredients, both savory and sweet, are offered to jazz up oatmeal, bagels, yogurt and cereal. (To test the concept and the traffic flow, Hilton built a prototype at its Memphis office, which was sampled by 1,300 people over 10 days.) Guests also can customize their drinks; complimentary high-end coffee, tea and hot chocolate are always available in the lobby, along with flavored syrups.
4. Adding room to breathe
Even an ample and elegantly presented breakfast bar can leave guests with a negative impression if they're forced to elbow their way to the food. Home2 Suites by Hilton, a midrange extended-stay chain, had to reconfigure its breakfast bar when it attracted more guests than expected.
"We moved our coffee station away from the breakfast line, so there's no bottlenecking," Bill Duncan, global head of Hilton's all-suites brands, told Hotel Management. Other changes included adding more seating around the perimeter of the lobby and moving tables to permit better traffic flow.
Is everyone making a beeline for the waffle maker and the omelet station? Move them far apart from each other, or consider adding a second station for each. Also, keep in mind how guests approach the breakfast bar. When they step out of the elevator, what's the first thing they go for?
5. Offering grab-and-go hot breakfasts
Why force guests to choose between a cold breakfast in hand or a hot one at the table? Aloft recently introduced a new concept it calls Re:fuel portable breakfast pots: warm, made-to-order breakfasts in a cup. Of the 13 flavors, some are savory-traditional (seasoned fries, a poached egg, cheese sauce, bacon and scallions), some are health-conscious (brussels sprouts, kale, avocado, basil, a poached egg and lemon vinaigrette) and some are sweet (French toast sticks, strawberries, blueberries, raspberries, icing, powdered sugar and mint leaves).
Aloft sells the breakfast pots at its in-house market, but the concept could easily be translated into a breakfast bar offering. For example, to produce oatmeal, grits and other grains in large volumes, Hamilton Beach Commercial rice cookers are made for easy cleaning and reliable performance, every morning of every day.
Do you have innovative hotel breakfast ideas? Tell us more here! We may feature your business on our blog, which reaches an international community of Hamilton Beach Commercial clients.