If you're loyal to everyone, you're loyal to no one.
That's the challenge facing the hospitality industry, as guests sign up for multiple hotel loyalty programs without pledging allegiance to one. About 27 percent of guests at branded hotels, and 21 percent of guests at independent hotels, are members of the hotel's loyalty program, Skift's 2017 Outlook On Hotel Direct Booking says.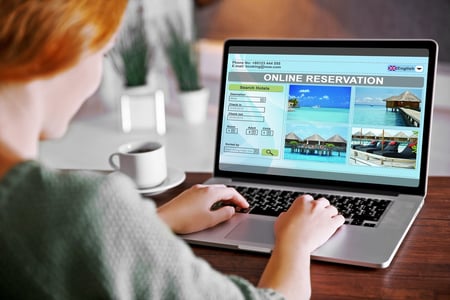 And increasingly, they're choosing the rewards programs offered by online travel agencies, because the points can be used at multiple properties.
How can hotels convince guests to commit to their own rewards program? Here are five ways hotels are seeking to win — and keep — loyal customers.
1. They're letting guests bid in auctions with hotel rewards.
In July 2017, Wyndham Rewards announced a new way to redeem points: bidding to win travel, sports or entertainment experiences. Examples include tickets for Elton John's "The Million Dollar Piano" show in Las Vegas and a two-night stay at Wyndham Grand Clearwater Beach plus a dolphin-watching tour. It's a smart bet for Wyndham, Skift observes, because its budget-conscious guests are accustomed to using eBay and other auction models. However, there's a frustration factor, too: "the company has to strike the right balance to make sure its most valuable customers — its repeat guests — aren't spending time 'playing' its new system and then getting frustrated because they never 'win' anything."
2. They're adding aspirational experiences to the hotel rewards portfolio.
Marriott Rewards is offering higher-end prizes in its auctions. Want to take a private cooking class with Chef Dominique Crenn at Atelier Crenn in San Francisco, then enjoy a custom tasting menu and wine pairings? Or enjoy a private performance by three "Hamilton" cast members, followed by a multi-course dinner at the Hunt & Fish Club and tickets to the hit musical? These once-in-a-lifetime experiences can be yours, if you have a few hundred thousand points to spend.
Offering opportunities like these isn't just a perk for loyalty program members. It may help hotel chains offer the elusive thrill of "experience" that travelers seek. Marriott, for example, has integrated an experience booking engine called PlacePass into its rewards program's mobile app. When customer data is analyzed, the app can recommend local experiences to try. "Marriott is adding value to consumer lives besides just a bed in a hotel room," Stephanie Linnartz, the company's global chief commercial officer, told The New York Times.
3. They're expanding redemption options for hotel rewards.
U.S. News named Marriott Rewards the best hotel rewards program for 2017-18, and it's easy to see why. Not only does Marriott have a huge network of properties, with 16 affiliated brands, but it allows loyalty program customers to redeem points for almost anything they want. There are more than 250 ways to use points, Marriott says: for frequent flyer miles, room upgrades, vacation packages, airport lounge access, car rentals and more.
4. They're allowing guests to pool hotel rewards points and combine them with cash.
Hilton Honors had a problem. Of its 60 million members worldwide, nearly a quarter of members surveyed had not redeemed any points; 70 percent of those said they were saving up for future redemptions. So, as Travel+Leisure reports, Hilton introduced some new perks that made it easier for guests to use their points immediately, instead of waiting. Honors members can now book rooms with a combination of points and cash. They can also pool their points with up to 10 friends or family members, a boon for family vacations or big celebrations.
5. They're joining forces with other independent hotels.
Increasingly, travelers are seeking out boutique and independent hotels, which offer both the consistent service of a chain and the unique aesthetic of an Airbnb property. But when most boutique properties are independent or part of a small chain, how can they compete on loyalty?
That's where Stash steps in. Stash Hotel Rewards is a loyalty program that represents about 150 hotels in the United States. Book at any one property and earn five points per dollar, redeemable for free nights at member hotels. An associated credit card is another way to earn points.
Do you have an effective strategy for winning guests' loyalty? Tell us about it! We're always looking for hospitality industry innovators to feature in this space.