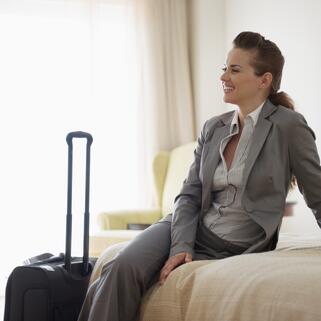 Hotel chains are constantly upgrading rooms to look modern and fresh. Goodbye, flowered comforters, brass lamps and pastel watercolors; hello, crisp triple-sheet bedding, extra power outlets and granite vanities.
But that's what's now; what comes next? The desires of millennial travelers are drastically altering the standards for hotel rooms and guest service.
Here are the trends and ideas that are shaping the guestroom of the future.
Mobile control
Mobile check-in is rapidly becoming the norm at forward-thinking hotels. Marriott Rewards members can use the chain's app to check in up to 2 hours before they arrive and check out as well, skipping the front desk entirely. Select Marriott hotels also allow guests to text staff if they need fresh towels or other amenities.
More traditional travelers may wonder if sending a text is really any easier than dialing 0 on the hotel phone. But these innovations are made to please do-it-myself millennials, and they can also streamline hotel operations. "Metrics built into the apps' framework can generate reports on peak usage times and popular amenities, delivering measurable statistics on quality issues like slow periods in valet service or optimal housekeeping staffing assignments," Cris Davidson writes for HotelExecutive.com.
Easy charging
What's the first thing a guest does upon arrival? Often, it's plugging in a phone or laptop with an exhausted battery. Hotels have realized that guests shouldn't have to search for an outlet next to a convenient surface. AmericInn's revamped rooms have a "welcome shelf" placed at the door: a foot-wide ledge to place keys and charge phones. The chain has also added a coffee welcome shelf with a single-cup coffeemaker and supplies, illuminated from above. "I want extra set-down space and I hate having the coffeepot in the way," says Jeannine Momchilovich, vice president of design services for AmericInn.
Pod rooms
Millennial travelers need only a few amenities to keep them happy — and a large guestroom isn't one of them. Hotels such as the Pod Hotel in New York City offer tiny rooms (some with shared bathrooms) that include the essentials: free Wi-Fi, an iPhone dock, a media center and a workstation. The Pod Hotel makes up for limited room size with generous communal spaces, such as a rooftop lounge, a playroom with a Ping-Pong table and free daily tours and activities.
Social lobbies
In keeping with millennial travelers' fondness for being alone while together, lobbies are becoming lively social hubs. Holiday Inn has designed a new "active lobby" with conversation spaces, communal workstations, a bar and a 24/7 market.
Guests like to spend time in the lobby, Momchilovich says, and "they're not sitting by themselves with their computer." AmericInn has begun placing both high-top bar tables and large "connectivity tables" with outlets in their lobbies: "It's a lot more open, a lot more casual and a lot more fun."
Grab-and-go food
Many hotels are phasing out costly room service in favor of other convenience-focused dining options, such as in-lobby markets and cafes. Marriott's Travel Brilliantly initiative, which solicits guests' ideas for what they want to see, is turning one woman's suggestion for a healthy-food vending machine into reality.
A sense of place
Conformity has long been the norm for hotel guestrooms: a Westin room is a Westin room, whether you're in Seattle or San Antonio. Younger travelers, however, prefer hotels to possess distinctive and memorable qualities that reflect their setting. They want to see local craft beers at the bar and photographs of the city on the walls. The new Hyatt Regency in the Galleria area of Houston, for example, features paintings by local artists and Houston-inspired dishes in its café. "It will be tasteful. Nothing tacky and obvious like a great big star on the wall," Gensler Design Director Lester Yuen told the Houston Business Journal. "The point is for people to know they are in Houston."
If you have a fun or interesting story idea, please submit it here. The best stories will be published on our blog and distributed to the HBC Community, nationally and potentially internationally. Further, we will reference your name and establishment for bringing it to our attention. A little publicity can always help to grow your business and awareness.